The Window Film Graphic Design Studio
Printed or cut graphics are an increasingly popular way of improving both the internal and external appearance of glass and other surfaces and The Window Film Company has a dedicated design and print department, in place to help you achieve the most stylish and professional results possible.

Accounting for the ground floor of The Window Film Company's Buckinghamshire headquarters, the graphics and print department is available to deliver help, advice, design support and ultimately, stunning results. Using three wide-format printers it is possible to print in near-photographic full colour quality to both flexible and rigid media.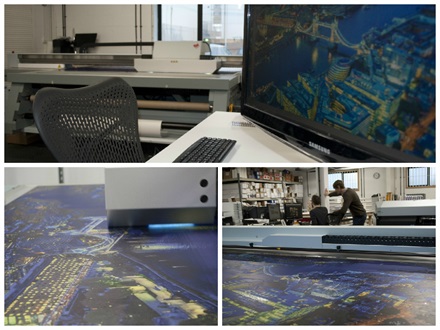 Optically clear window film can be printed on to deliver excellent branding results for use on shop fronts, whilst frosted film provides the perfect surface for creating bespoke privacy or manifestation solutions. Digital wallpaper can be printed to feature the full colour graphics of your choice and is suitable for application to almost any flat surface. The flatbed printers also allow for printing on to solid surfaces such as metals and wood, ideal for creating external signage and other display solutions.
As well as top of the range print capabilities, the dedicated design and print department utilise advanced computer equipment, plotting, cutting, slitting and laminating machinery to precision cut and finish products to the exact specifications of each and every customer. By carrying out every job entirely in-house, The Window Film Company is able to maintain strict quality control – each and every job is checked at multiple points throughout the process, before final quality checks and hand finishing.
In addition to the technology and equipment, the team is made up of talented, knowledgeable and experienced staff. Each member of the team is able to provide advice on the most suitable film type and print method for your project, as well as helping with the design element of your project. In short, if you have a print requirement of any shape of size, The Window Film Company can help.

For more information about how The Window Film Company's design and print team can help bring your project to life, call us on 01494 794477or by emailing info@windowfilm.co.uk