Bespoke Graduated Frost Effect for Berkshire office
The Window Film Company created, printed and installed a custom privacy solution to a large expanse of glass partitioning at a large Berkshire office.
By printing onto optically clear window film The Window Film Company is able to create a number of different effects and appearances, suitable for use in a host of situations. With an in-house print and graphics team and teams of fully qualified and experienced fitters, The Window Film Company is able to deliver completely bespoke solutions.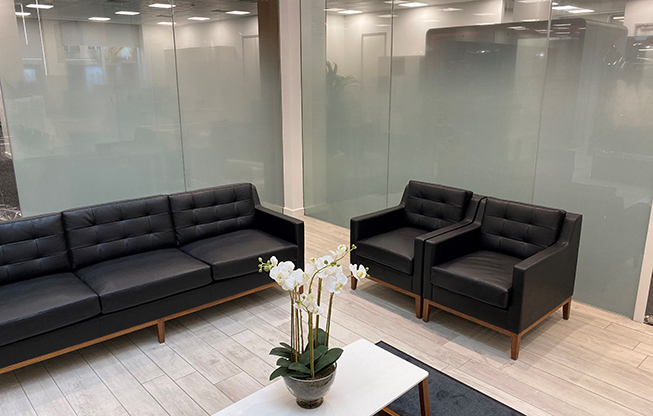 Requirement
A large new office facility in Berkshire featured numerous glass partitions, designed to divide the premises in a sleek and stylish way. The size of the glass meant that manifestation markings were required, and the client wanted to use this requirement to also deliver an element of privacy, with both needs met in a stylish and professional looking way.
The client requested a graduated effect, with the bottom of the glazing appearing completely frosted, with this effect gradually fading away until the top of the panel was left completely clear.
Solution
To meet the requirements, The Window Film Company suggested printing a frosted effect onto optically clear film, creating a graphic that dissipated the higher it got. The Window Film Company's print and graphics team remained in close contact with the client, sharing samples of different opacities to ensure that the graduation was at the level required, working together to ensure that at very point on the glass, the appearance was exactly how the client required.
Careful attention was paid to at which stage the graduation took place, ensuring it would meet both privacy and manifestation requirements - the latter being of particular importance as they are covered by Building Regulations.
With the design agreed and approved, the print was undertaken, with a total of 117 panes printed, each featuring the exact same graduation and fade, ensuring a perfect flow across the partitions throughout the building.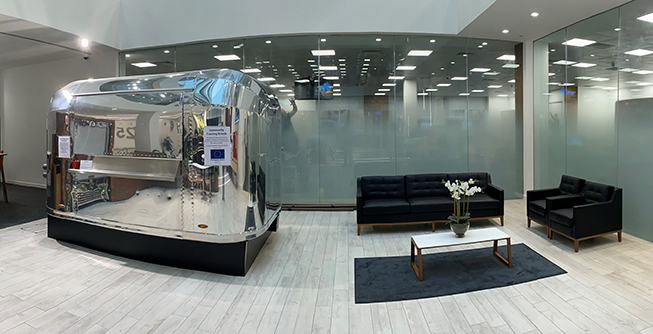 Installation
The fitting was undertaken by a team of The Window Film Company's fully qualified and vastly experienced installation teams, who completed the work in a single day. No access requirements were necessary apart from standard step ladders, and the work was able to be completed with the minimum of disruption.
The end product gave the glass a stylish new look, befitting of the sleek and contemporary overall appearance of the new, modern office space. The bespoke nature of the design meant it provided the perfect functional finish as well as a striking aesthetic look.
Summary
Bespoke requirement for manifestation and privacy
Graduated frost effect created by The Window Film Company's in-house graphics team
Effect printed onto high performance optically clear film
Total of 117 panels
Installed by The Window Film Company's experienced fitting team
Entire project created and completed by The Window Film Company
For more details about manifestation requirements and the legislation/regulations involved, please visit: https://www.windowfilm.co.uk/graphics/manifestation-legislation