Fitting Frosting for Windows
How to frost windows. Window frost application info' & video guide for installing white frosted window films and frosting
Updated: November 20, 2019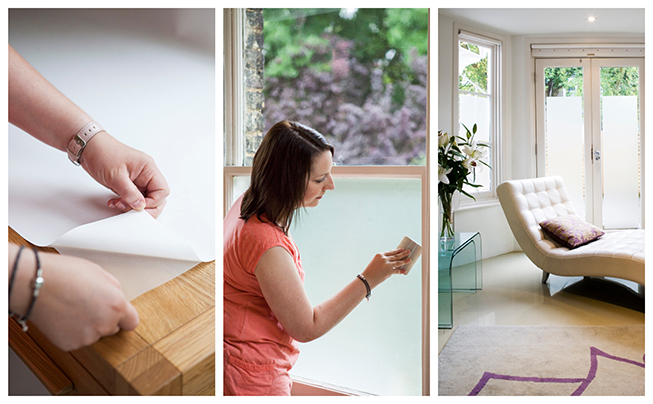 Window frosting is a popular technique for delivering a stylish privacy solution for glass windows. Achieved by applying frosted window film, the end result is a beautiful, contemporary alternative to net curtains or blinds.
Frosted window film is designed to be retro fitted to existing glass and once applied will give glazing the classic appearance of acid frost etched glass, without the need for costly replacement glass. Installing frosted film is straightforward and will deliver a long lasting and durable solution.
Frostbrite from The Window Film Company is a high quality window film for privacy and glass decoration, that has been specially developed to be as tough and hard wearing as it is stylish and attractive. This popular frosted film requires no special maintenance or aftercare after fitting and is resistant to water and moisture making it ideal for use in bathrooms, wet rooms and on shower screens.
How will Frostbrite frosted film look once installed to my glass?
Frostbrite frosted film for glass is effective as soon as it is fitted, giving the previously clear glass the appearance of sandblasted or acid-etched glazing. Once in place, the film will block the view from both sides of the glass, delivering a stylish two-way privacy solution but without sacrificing natural light. By allowing excellent levels of light to pass through the glass, the internal environment remains bright and airy.
Why is fitting film for privacy better than curtains or blinds?
Before advances in window film made them a viable choice for use throughout the home, curtains and blinds were a traditional way of ensuring privacy. Blocking the view was achieved by simply pulling curtains or drawing blinds. Of course, this is an effective method, but as well as blocking the view, curtains and blinds also block the light, meaning that privacy is delivered at the cost of natural light. An installation of Frostbrite frosted window film from The Window Film Company will deliver that same two-way privacy but without the loss of natural light, instead of creating a lovely, bright interior with no question of the film making it feel unnecessarily dark.
How do I fit window frosting?
Frosted window film is not only highly effective, but it is also straightforward to fit, with no prior experience and nothing more than a few household items required for a successful bubble free installation. Each order of frosted window film comes complete with printed fitting instructions that will guide you through each stage of the installation process, along with a free plastic application squeegee to help you achieve a perfect finish. We have also created easy to follow video guides for each type of window film, so before beginning your fitting, we do recommend you take the time to view the appropriate video. While the process is straightforward, spending some time preparing will only be beneficial!
Once your film has arrived and you've read the instructions and reviewed the video, you'll be ready to go. The first step is to clean your glass as thoroughly as possible. The cleaner the window the better the window film will look and perform, so it really is worth putting the effort in to remove as many imperfections as possible. Once you are satisfied your window is as clean as it can be, the next task is to create a soapy water solution by adding a few drops of washing up liquid to a plant spray bottle full of water.
Use the plant spray bottle to liberally cover the window with soapy water. Be sure to cover the entirety of the glass with the soapy solution, then remove the backing sheet from your window film. It may be that this part of the process is best done with two people, especially if you have ordered a sizeable piece of window frosting. Once you have carefully removed the backing sheet from the frosted film, use the plant spray bottle to cover the exposed surface of the film with water. Again, be liberal with the soapy water, making sure that the surface of the film is completely covered.
With both the film and the window coated in the soapy water solution, carefully take the piece of film to the glass and allow it to flow into place. The water will act as a slip solution, allowing you to move the film around until it is in exactly the right place. When you are satisfied your film is in the correct alignment, use the plastic squeegee (supplied free with each online order of window film) to push the water out from underneath the edge of your window film. Use slow, deliberate and methodical strokes to squeegee the water out, before using a dry, clean cloth to mop up the excess moisture from the edge of the frame. That is how you install Frostbrite frosted window film from The Window Film Company.
Video frost fitting instructions
The video below shows the exact steps involved in fitting a white printed Frostbrite film that has been supplied cut to size. As you'll see from the video, the film is relatively easy to apply and there are very few tools required that can't be found in the house, with the one exception possibly being the plant spray bottle. This is an integral part off the installation process as both the film and the glass needs to be completely covered in soapy water, so please do ensure you have a spray bottle before beginning your install.
If you have any questions about the installation technique shown below, please do call a member of our expert team on 01494 794477 or email info@windowfilm.co.uk.
Nationwide window film installation service
If you'd prefer not to undertake the fitting of your frosted window film yourself, The Window Film Company offers a professional nationwide fitting service. In employing teams of fully qualified and vastly experienced installers, The Window Film Company provides you with the option of having a perfect installation wherever you are in the country, regardless of the size of job or type of film you would like fitted.
Getting a quote for a window film installation is easy. The only details our Account Managers will need are the type of film you have chosen, along with the number of windows you wish to film and the approximate size of each pane. This information will provide enough detail to create an immediate, no obligation quote, so to get started, simply call a member of our team on 01494 794477 or email info@windowfilm.co.uk.
Can I choose a decorative frosted film for glass?
While classic, plain Frostbrite frosted film delivers a smart, contemporary finish, if you are looking for an added decorative flourish with your frosted glass film, The Window Film Company can help! You can choose from an extensive range of decorative window film cut or printed patterns, including exclusive designer collections not available anywhere else.
Cut patterns are created by computer cutting your chosen design from the window film. The patterned area will, therefore, be clear, creating a stylish vision panel where it will be possible to see through the glass. If you are buying your frosted film for privacy, please take this into consideration when choosing your cut pattern. Also available are a stunning collection of white printed designs. These patterns are created by printing in brilliant white ink, using state of the art print technology to perfectly recreate your design of choice. Whichever type of pattern you decide on, whether it is for your bathroom or kitchen windows, each order is custom created to your exact size specifications, meaning you'll receive a bespoke piece of window film, made just for you and your glass.
If you have any questions about our wide range of window films, installing frosted window film, it's uses, aftercare or for a fitting quote, please contact a member of our team by calling 01494 794477 or email info@windowfilm.co.uk.