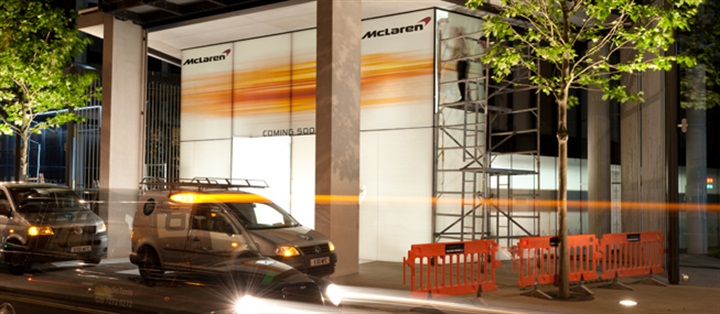 Printed Vinyl for McLaren
Privacy solution with window vinyl, printed with a bespoke design for showroom
The Window Film Company were asked to help with providing a bespoke privacy solution for motorsport giants McLaren for their new exclusive showroom at One Hyde Park, London.
When McLaren announced the launch of its brand new supercar, the MP4-12C, it was clear it was a very special vehicle. It was also clear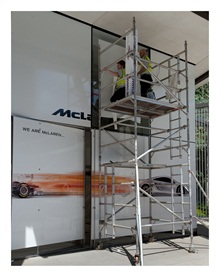 that it was going to require a very special showroom.
The Window Film Company UK Ltd was engaged to aid in the completion of the Formula One giants home for its latest new creation at one of London's most exclusive addresses – One Hyde Park. The showroom, known as McLaren London, was the first of its type.
After liaising with project co-ordinators, The Window Film Company were able to recommend an external grade vinyl film that would protect the high grade glazing during the fit-out, whilst also providing full time privacy – a vital component of the job, with car enthusiasts across the globe keen for an early glimpse of the new premises.
The chosen vinyl was a brilliant white, onto which The Window Film Company printed bespoke McLaren graphics which had been designed specifically for this job. The result was a striking window display, perfectly in keeping with the sleek, modern design of the building whilst also providing privacy and protection for the glazing. The display also served to raise awareness of the showrooms imminent opening.
Phase two of the job involved the removal of the film as part of the process that saw an authentic McLaren Formula One car winched into the showroom and mounted on the wall. The careful selection of vinyl meant that The Window Film Company's team of qualified installers could remove the vinyl quickly and easily, leaving no residue on the high spec glass.
With the iconic car in place, privacy was again of paramount importance, so the installation teams worked through the night to fit a new set of film, again featuring bespoke graphics to the front of the building. This allowed the remainder of the fit out to take place with privacy and protection of the glass assured.
Click here to download this case study as a PDF document.