The Benefits of Window Film
What are the top 5 benefits of window film in the UK?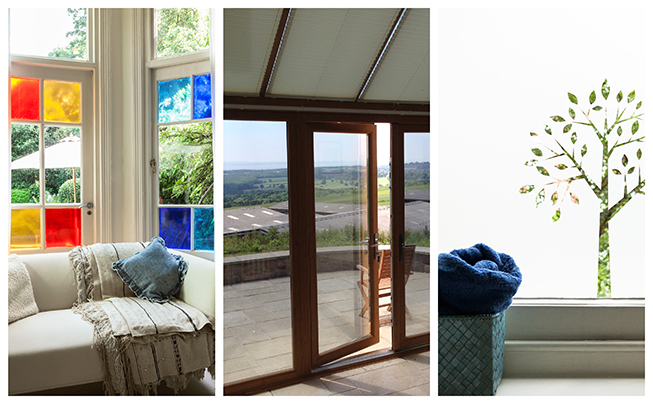 Make your home a more comfortable, safer and stylish place to live, with an easy to install residential window tint or patterned film.
Window films are available in a range of grades and finishes, with each specially designed to be easy to install, long lasting, high performing and stylish in appearance.
An application of window film can instantly result in creating a more comfortable environment in your home. With film and tint available on a DIY or fully installed basis, here are just a few of the benefits you could be enjoying…
1.Reduce heat in your home or conservatory
Solar control window film is a technically advanced product that has been specially developed to help maintain a moderate and enjoyable internal temperature without making it feel cold, blocking the view or sacrificing natural light. The film is designed to be retro fitted to existing glass, with an internal fitting ensuring the longest useful life (external grades of window film are available if an application to the inside isn't possible). Once in place, solar control film is effective straight away, giving the external face of the glass a mirrored effect during daylight hours. This reflective appearance serves to bounce away a percentage of the sun's energy before it can pass through the glass and add to the internal temperature.
2.Privacy for glass
Adding to privacy to glass can be necessary for a number of situations, with window film providing a range of stylish and easy to fit options. Frostbrite frosted film is a hugely popular product; and for a very good reason. When in place, the film immediately gives the glass the appearance of acid etched or sandblasted glass, serving to block the view from both sides of the glass without sacrificing natural light. This option is not only stylish and aesthetically pleasing, but it is incredibly durable too, having been engineered to ensure it is resistant to moisture, in turn making it suitable for challenging locations such as bathrooms and shower screens.
Frostbrite frosted window film will deliver 24 hour two-way privacy, but if your situation requires a one-way privacy film, then a reflective window film could be the answer. These sleek and stylish films give the outside facing side of the glass a mirrored appearance during daylight hours, preventing passers by from seeing through the glass, instead greeting them with their own reflection. While the view from the outside is blocked, it is still possible to see from the inside out, while natural light is also preserved.
3.Get to grips with glare
Glare can be a year round problem, one that makes every day activities such as watching TV or reading difficult or uncomfortable. During the summer months, sunlight is naturally stronger while in the winter months, the low-lying nature of the sun means that light can pass through your glass and into your home or premises at an awkward angle. Left untreated, this bright or awkwardly positioned light can make for an unpleasant internal environment, and an application of anti-glare window film can help. The film works by filtering out the harshest of the sunlight, with the most effective films reducing glare by up to 79%. This benefit is achieved without sacrificing excess levels of natural light or blocking the view from the inside out.
4.Save energy, save money
An application of window tint film can also help deliver energy savings, in turn reducing energy costs – all in addition to helping reduce carbon emissions. Whether you have a home office or own commercial buildings, by adding solar control window film to your glazing, your property will become less reliant on air conditioning units, therefore reducing utility bills and reducing costs. As part of our range of window films offers, The Window Film Company provides a survey service to assess how much money you could save by using solar control window film. To qualify for the survey, your building does need to meet certain criteria; to find out more please visit our dedicated energy saving section.
5.UV ray reduction
The sun's UV rays can be damaging in a number of ways. They can be dangerous for certain skin conditions and are also one of the biggest contributing factors to fading. Fading usually goes undetected until it is too late and is caused by a combination of heat, light and UV rays passing through glass and directly onto furniture, upholstery, flooring or other belongings. An application of UV reducing window film won't stop fading completely (to do so you would have to block heat and light) but by filtering up to 99% of UV light, the film will help to slow down and protect against the process. Available in a range of finishes, including a completely clear window film, UV protection window film will reduce harmful UV rays, delivering health benefits (blocking ultraviolet rays can be helpful for skin) as well as serving to slow down the fading process.
In summary, window film has been developed to be effective, long lasting, easy to install and aesthetically pleasing. Whatever your situation, whatever your taste and whatever your requirements, there is sure to be a window film to suit.
For more information or additional details on any of the products offered by The Window Film Company, please contact a member of our expert team by calling 01494 794477 or email info@windowfilm.co.uk.