Kate Farley and The Window Film Company for Birmingham Airport
The Window Film Company worked alongside award-winning designer Kate Farley to deliver a striking and meaningful new look at Birmingham airport.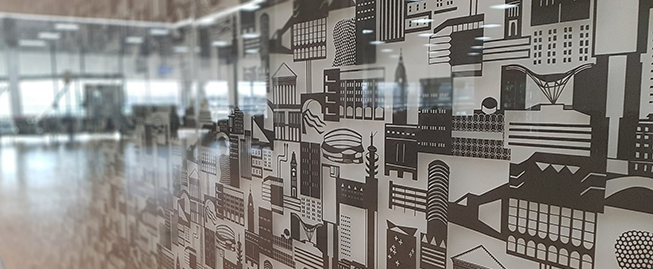 Brief
Birmingham Airport recently recorded its busiest ever year, with almost 13 million passengers passing through the terminal. As part off a continuing commitment to this growing number of passengers, improvements are being made throughout the facility, with brand new bathroom facilities in the departure lounge one such example.
The Window Film Company was engaged, alongside design collaborator Kate Farley, to deliver a bespoke decorative addition for a number of glass walls, comprising 25 panels, each nearly 3 metres in height.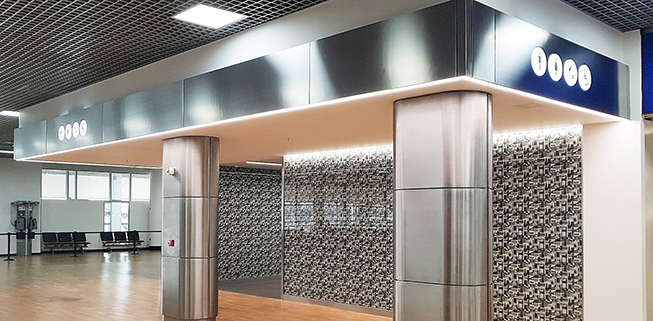 Solution
The graphics were a custom creation, designed by Kate Farley and featuring a host of iconic Birmingham landmarks. The Window Film Company worked directly with Kate, advising as to the proposed print process, allowing the design to be created specifically to achieve the best finish and appearance.
The bespoke design was printed onto Frostbrite frosted film; a long lasting and durable window film product that when applied, gives glass the appearance of sandblasted or acid-etched glazing; a stylish and contemporary way of achieving privacy. Frostbrite also provides the perfect surface for printing on and it was agreed that for this project, the graphics would be printed in a striking, bold black, before being backed with a layer of white ink – a method employed to make sure that the design stands out as much as possible.
Upon receipt of the panel sizes, The Window Film Company's in-house graphics and print team prepared the graphics, resizing and scaling each panel to ensure the pattern flowed perfectly from one to the next, ensuring that despite the small gaps, the graphics appeared uninterrupted.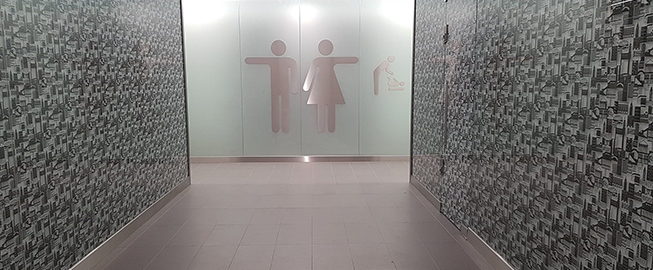 The film was then installed by a team of The Window Film Company's experienced and fully qualified fitting teams, undertaking the work at the time specified by the Airport, delivering the finished effect with the minimum of disruption.
Outcome
Once installed, the area was completely transformed, taking on a sleek and stylish look, featuring graphics with a geographic significance. The design is as relevant as it is stunning, delivering a fresh, stylish look and feel for travelers waiting to board their flight.
Key points
Glass decoration required as part of airport upgrade
Custom graphics created featuring local landmarks
Design printed onto Frostbrite frosted film for style and privacy
Print was backed in white for ultimate vibrancy
Printed and installed by The Window Film Company