Solar Control Film for New College, Swindon
Following a relocation and a £10million development programme, it was found that the impressive facilities at New College, Swindon suffered from uncomfrotably high temperatutres. The Window Film Company was engaged to help.
An examination of the facility revealed the issue. Over 100 large glass windows proved the facility with acontemporary, modern appearance whilst also creating light, airy spaces inside, but on bright days the sun was streaming through the glass, causing the rooms within to steadily heat up.
It was agreed that High Reflective Silver, a specialist solar control film should be applied to the glazing. This high performance film can reject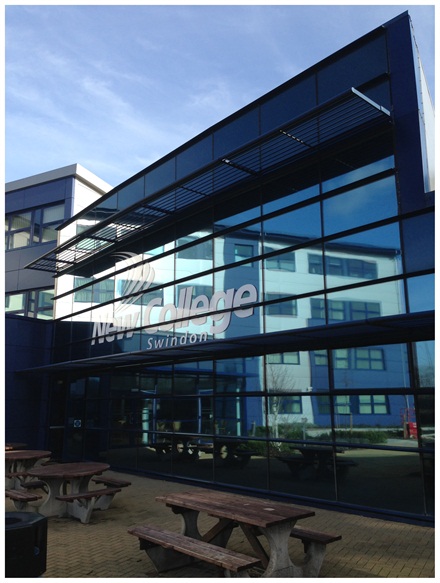 up to 77% of solar energy and works by reflecting away the sun's heat before it can enterthe room. This is why window film outperforms traditional blinds, which let heat into the room allowing it to accumulate and build throughout the day.
High Reflective Silver will also cut down on glare, as well as blocking out up to 99% of the sun's UV rays - one of the biggest contributory factors to fading. This film will cut down on heat, glare and protect against UV, all without sacrificing the view out of the windows and without making a major difference to the natural light entering the building.
An internal application is usually desirable as it ensures an extended life expectancy for the film. This was the desired installation at the College, and the size and location of many of the windows necessitated the use of a cherry picker. The Window Film Company's installers are all PASMA and IPAF accredited, so as well as being vastly experienced in the application of window film of all types, each team-member is qualified to use access equipment.
Installation was carried out during half-term at the request of the College, allowing the work to take place at a time that would guarantee minimum disruption. The timescales of the project were agreed and organised by The WindowFilm Company's Operations team, a team dedicated to organising the logisitical side of installations.
Key Points:
Large building with heat issues
Film applied to over 100 large panes
High Reflective Window Film rejects up to 77% of solar energy
Film also cuts down on glare and protects against fading
Access equipment utilised for hard to reach panes
Work carried out during specific times for minimum disruption
Completed work saw both aesthetic and functional requirements met