Glare Reducing Solar Control Window Films
Anti glare window films for windows, glass and polycarbonate conservatory roofs
Guard against glare

Guard against glare

Guard against glare

Guard against glare

Guard against glare

Guard against glare
Glare can be an issue all year round, with bright sunlight making it different to focus or see, causing eye-strain and discomfort. An application of anti-glare window film will provide instant and effective relief.
Anti-glare window film from The Window Film is available in a range of finishes, with an appearance and performance level to suit every taste. Whilst traditional anti-glare measures such as blinds or curtains will make your room dark and prevent vision out, our specialist glare reduction window film allows high levels of light to pass through the glass, whilst also maintaining a view out through your windows. Once installed, the film requires no additional maintenance and can easily be wiped clean using household window cleaning products.
As well as cutting down on glare, this range of films also provides further benefits. The majority of our anti-glare films also cut out up to 99% of the sun's harmful UV rays – one of the major causes of fading. Therefore an application of this range of films won't just help ensure a comfortable environment, it will also protect upholstery, carpets and furnishings. In filtering UV, the film will also provide a helpful barrier against harmful rays for those with sensitive skin.
The full range of glare reduction films are available to purchase online and can be installed following the supplied fitting instructions, or by watching our online video tutorial. The Window Film Company also offer a nationwide installation service, with fully trained and qualified teams of fitters available to carry out an installation in your home.
Anti-glare window films can reduce the glare by up to 95%, so for further details of our range, for quotes, samples or some straightforward advice, call one of our friendly team on 01494 794477 today.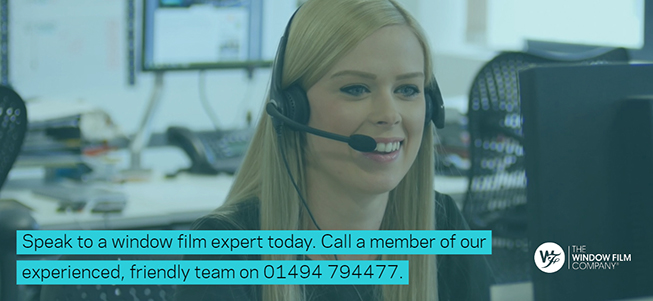 Anti-glare window film can reduce glare by up to 95% and cut out up to 99% of harmful UV rays.