Conservatory Roof Films for Heat Rejection
Types of light reflecting, heat and glare reducing window films for your Conservatory roof and windows
Updated: November 25, 2019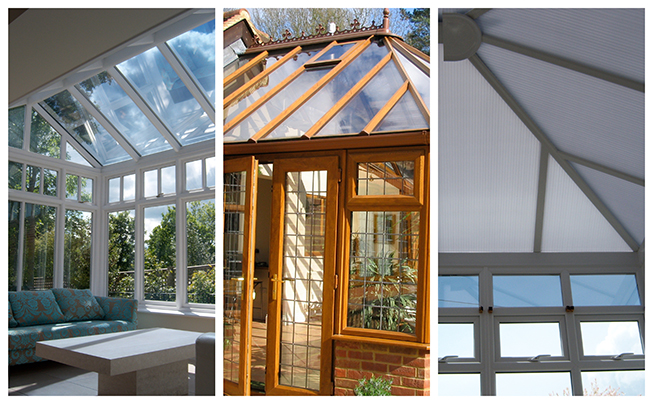 Left untreated, orangeries, summer houses and conservatories can quickly overheat. Excess heat passes through your conservatory roof with heat rejection film a cost efficient and hugely effective way of tackling it.
Whether you have a glass or polycarbonate conservatory roof, heat rejection film from The Window Film Company will help fight the build up of excess heat and stop your room from overheating and becoming uncomfortable and in some cases, unusable.
Heat rejection solar window film for conservatories is applied to the internal side of the surface, reflecting away or filtering out solar energy before it can enter the room and pass through the roof and add to the internal temperature. The way the window film works means that is far more effective than traditional methods such as conservatory blinds, which are not only expensive to install and tricky to clean but deliver an inferior performance. Blinds are set back from the glass, so even when they are shut, they still allow solar energy to enter your conservatory, simply trapping the heat once it has entered your premises.
Once installed window film doesn't require any specific maintenance, it can be cleaned in the same way you would treat a standard window or polycarbonate surface, the only consideration s to ensure you don't use any ammonia-based products and to avoid using anything abrasive that might scratch the film. The simple advice is clean your film the same way you'd clean a window.
The type of window film you require depends on the material your conservatory roof is made from, whether you have a polycarbonate or glass roof in your conservatory. The Window Film Company offers an effective solution for both glass and polycarbonate surfaces, with both options available to buy online for DIY installation or supplied on a fully installed basis.
Heat rejection film for glass
The window film designed for use on a glass conservatory roof is Supertint Glass. This film takes on a reflective external appearance during daylight hours, and it's this mirrored appearance that delivers the solar control, serving to bounce away a percentage of the sun's heat and energy before it can pass through the glass roof and into your property.
An application of supertint glass conservatory window film will not make your property feel unduly cold, instead, the film works by stopping only excess heat from building up and making the internal temperature uncomfortable. By reducing a portion of the heat instead of blocking all of it or allowing 100% of it through, it means that a reasonable amount of warmth is able to pass through the roof, creating a moderate and enjoyable temperature instead of one that quickly rises as the day goes on.
An application of supertint glass will also reduce glare, which can be a year-round problem. During summer months the bright sunlight can make it difficult to focus on screens or to read in comfort, while during winter the low lying nature of the sun can result in light entering your conservatory or home at an awkward angle, again making it difficult to focus in comfort. An application of supertint glass will reduce glare by up to 79%, without blocking the view from the inside out.
Fading can also be problematic for rooms with a lot of glazing, with conservatories a perfect example. Fading can go undetected until it is too late, with heat, light and UV rays combining to cause damage to flooring, furniture and other belongings. By filtering out up to 99% of the sun's harmful UV rays (the biggest contributing factor to fading) an application of window film to your conservatory will also help slow down this damaging process and reduce fading.
If you are still struggling to visualize how your glass will look after an application of heat rejection film, imagine your conservatory has been adorned with a light pair of sunglasses! The external side will be reflective during the day, with decent levels of natural light allowed to pass through the glass, with the harshest, brightest light filtered out to ensure an all-round comfortable environment.
Heat reduction film for polycarbonate
If your conservatory roof is a polycarbonate roof, rather than glass, the film you require is Supertint Poly. Specially formulated for use on polycarbonate surfaces, the film is applied to the internal face and once applied will provide an opaque appearance, allowing plenty of natural light to pass through and ensuring a bright and airy internal feel.
The film reduces and rejects up to 76% of the sun's solar heat and energy, serving to cut out excellent levels of excess heat. Supertint poly will also reduce glare by 76% and block 99% of the sun's potentially harmful UV rays, helping to slow down the fading process and mitigate against the damage it causes.
If you'd like samples of either the glass or polycarbonate film, please contact a member of our team by calling 01494 794477 or email info@windowfilm.co.uk. One of our friendly experts will be more than happy to help.
How to install solar control film for your conservatory
All of our high performing window films, including those for use in reducing heat in conservatories are available for purchase for DIY installation via The Window Film Company's website. Each order is supplied complete with a free plastic installation squeegee to aid the fitting process, with comprehensive fitting instructions also supplied with each delivery. We also recommend taking the time to view the video fitting instructions at the bottom of each product page.
To carry out a window film installation, the first step is to clean your glass thoroughly. Next, create a soapy water solution by adding a few drops of water to a plant spray bottle full of water, and use this to cover your window with the soapy water. After ensuring the glass pane is covered in water, remove the backing sheet from the window film and repeat the process, using the plant spray bottle to cover the exposed surface of the film with water. Then, take the film to the glass and manoeuvre it into the correct position before using the plastic squeegee to push the moisture to the edge of the panel. Use a dry, clean cloth to mop up all the excess water and your install is complete.
While the installation process itself is a simple one, applying film to a conservatory roof does provide challenges, so if you'd rather not attempt the process yourself, The Window Film Company offers a nationwide fitting service, with teams of fully qualified and vastly experienced installers on hand to carry out the work for you.
If your conservatory is too hot and you'd like to discuss the options for keeping your conservatory cool and enjoyable with window film, want to request samples of solar control window films or get a quote for an installation, then please get in touch. Our friendly team are available by calling 01494 794477 or emailing info@windowfilm.co.uk.