Our Window Film Installers
The Window Film Company provide a nationwide installation service, with teams of qualified and experienced fitters available to fit film to you premises whatever the size or location.
Each of our fitting teams are fully trained in the installation of our full range of films, including solar protection film, safety and security film, fade and glare protection film as well as printed graphics, manifestation and digital wallpaper. Perhaps more importantly, each team is hugely experienced in fitting each type of product in almost every conceivable circumstance, allowing them to deliver a professional service whatever the location and situation.
Window Film Installation Quote
Would you like a no obligation Window Film Installation Quote? Fill in the form below and we will be in touch ASAP.
Each installation carried out by The Window Film Company will meet the Glass and Glazing Federation's installation guidelines, and each of our installers carry CSCS cards. Every fitter is also fully PASMA trained, allowing them to carry out any work that is required at height.
Here at The Window Film Company, we know that each job is different, and each installation has different requirements. Having been established in 1998, our teams of installers have experience of fitting film at premises ranging from hospitals to hotels, schools to sports stadia, public buildings to private residences. Our dedicated Operations Team liaise directly with each client in advance of installation to ensure that our teams have the necessary equipment to complete the job as well as a full understanding of the project and any other special factors that need to be taken into consideration.
A great deal of planning goes into each and every installation, and it's these processes and attention to detail that allows us to deliver consistently high quality work throughout the Country.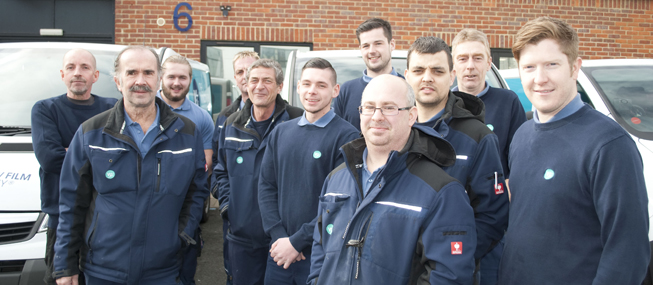 Ultimately, our aim is for your window film installation to be as efficient and as straightforward for you as possible. We will carry out the installation at the time and date most suitable for you, and that can often see us working through the night or at weekends. Simply put, we will do whatever is required to ensure your installation is carried out to meet your exact requirements.
For more information on our installation service, for more information on our range of film or products or to order samples, please call 01494 794477 and a member of the team will be happy to help.
Window Film Ranges