Commercial Window Films
Commercial window film for offices, retail outlets and workspaces
Rainbow Window Film

Brighten up your glazing with our range of vibrant colours

Bomb Blast, Safety & Security

Protect and make your glass and windows safe with our range of professional films

Logos & Branding

Bring your brand to life with full colour print

Cut Graphics

Your designs made a reality

Manifestation

The Window Film Company design and install a full range of manifestation

Full Colour Printed Graphics

Full colour printed graphics for a range of applications

Solar Control

Beat the heat with our range of solar protection film

Digital Wallpaper

Full colour, easy to apply digital wallpaper
The Window Film Company supply and install a wide range of high performance window film, specifically designed to solve glass related issues such as heat, glare, safety, security and privacy. With an in-house graphics team and state of the art print facilities, we are also able to provide eye-catching full colour graphics, printed wallpaper and bespoke glass manifestation.
Each and every building is different, but there are a number of common problems when it comes to glazing. The list below highlights some of the issues that products supplied and installed by The Window Film Company can address.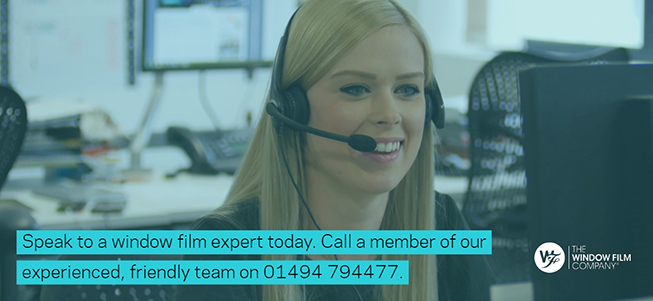 Heat: Heat can be magnified by glazing, quickly making premises uncomfortable. An application of solar control window film is an effective and cost efficient way to stop your building becoming too hot.
Glare: Glare can make it hard to focus on screens, equipment and colleagues and can quickly create an unpleasant working environment. The Window Film Company supply and install film that can cut down on glare without sacrificing natural light.
Privacy: Privacy is required throughout commercial properties for a variety of reasons. Window film can provide both one way and two-way privacy and can be printed to feature graphics or logos, as well as being combined with safety and security films. Read more about commercial privacy glass film.
Safety and Security: Glazing can be fragile as well as a target for intruders. The Window Film Company offers a wide range of both safety and security films, with a range of thicknesses and performance levels to meet your requirements.
Fading: The suns UV rays can cause stock, equipment and furniture to fade. With an application of specialist UV protection film, these harmful effects can be negated.
Glass decoration: The Window Film Company can provide full colour graphics, printed wallpaper as well as bespoke glass manifestation, each provided to your exact specification to meet both your functional and aesthetic requirements.
The Window Film Company offer the complete service, from design and print to supply and installation. Our team of dedicated commercial Account Managers are on hand to give advice and guidance, provide quick and easy quotes, whilst our teams of experienced fitters can guarantee a professional installation whatever film or product you choose.
For more information about how The Window Film Company can help, call us on 01494 794477 today. We'll be happy to help.