UV Fading Protection Window Films
Protect against fading from the sunlights UV rays using window film
Protect against fading with UV Protection Film

Protect against fading with UV Protection Film

Protect against fading with UV Protection Film

Protect against fading with UV Protection Film

Protect against fading with UV Protection Film

Protect against fading with UV Protection Film

Protect against fading with UV Protection Film
The Window Film Company supply and install a range of specialist UV protection window films that can help you protect your premises and property from the unwanted effects of fading.
Fading is a common problem and can adversely affect upholstery, carpets, flooring, furniture and artwork. By tackling the causes of fading, an application of anti-fade window film will help.
Fading is caused by a number of factors, with three main contributors. These are illustrated in the pie chart on this page. The main contributing factor is UV rays. It's this harmful light that accounts for 40% of the fading process. Anti-fade and UV protection window film will block out up to 99% of these rays, with specific films blocking out up to 99.9% - preventing virtually all UV from passing through your glass.
By blocking the UV, the fading process will be slowed down considerably, and there are a range of films that will deliver this without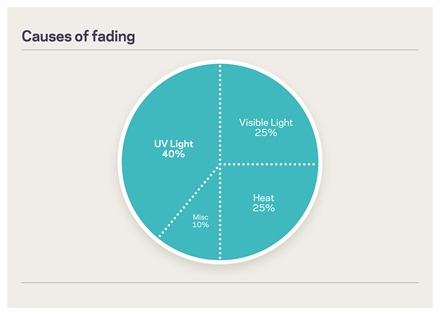 dramatically altering the appearance of your glass.
For increased protection against fading, we offer a range of films that will also cut down on heat and bright light – the other two main causes of fading. These anti-fade films are available in a variety of grades and finishes, with a performance level and appearance to suit every situation.
The full range of UV protection and anti-fade window films are available to buy online, whilst our fully trained, experienced and friendly account managers are always available to discuss any questions or to provide any information you may require about any of the films. The Window Film Company are also happy to provide working samples of our film, allowing you to test the film on your glass before committing to a purchase.
UV protection window film can be installed as a DIY project, using only a few basic tools and full fitting instructions are supplied with each order. Video fitting instructions are available to view online.
The Window Film Company also offers a full nationwide installation service, with trained fitters on hand to fit the film of your choice at the time of your choice. For more information about this service, to get a no obligation quote or to obtain more information on how window film can help with the fight against fading, call us on 01494 794477.