Window Film for Public Buildings
Public buildings such as schools and hospitals are subject to a number of laws and regulations, and a number of these can be met with products from The Window Film Company.
Depending on the location of glass and windows, legislation can require that glazing meets safety regulations. This doesn't have to mean expensive replacement glass; an application of window film can bring existing glass up to the relevant standard, allowing buildings to meet the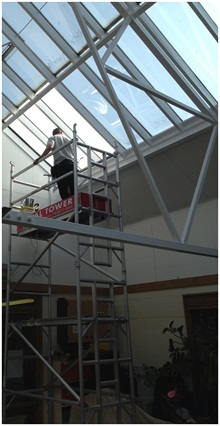 necessary regulations without undertaking an expensive re-glazing project. Safety film is available in a range of different grades and levels, meaning there is likely to be a solution that matches both your functional and aesthetic needs.
Once safety film is fitted by one of our installation teams, the glass will be issued with a kite mark indicating the appropriate standard and information.
Another common requirement for public buildings is for glass of a certain height to be clearly visible. This is achieved with an application of manifestation. This can take many forms, ranging from simple squares or dots to logos and bespoke design. Whatever the requirement, The Window Film Company is able to create, supply and install al the appropriate manifestation to ensure your glass and glazing meets the relevant standard.
Both manifestation and safety film were installed by The Window Film Company as part of a large project for Northwick Park Hospital in London (you can read more about this job here) but whatever the size of your project or premises, The Window Film Company can help. Our teams of account managers are on hand to take your initial enquiry, and they will be your point of contact throughout the process, providing expert advice on each of the available films, along with details of turnaround times and costs.
Our installation teams are able to carry out fitting at a time that best suits you and your space. Our fully qualified fitters are experts at carrying out high quality installations with the minimum of fuss or intrusion – essential when working in public buildings and spaces. We're also able to arrange out of hours installations, carrying out fitting when premises are closed, or are outside peak hours. Whatever your requirement when it comes to installation, The Window Film Company will do their best to accommodate.
Regardless of the type of film you need, the quantity and the time and place you need it fitting, The Window Film Company will be happy to help.
The Window Film Company can arrange installations at times to suit your situation, with an operations team dedicated to organising logistics.