Conservatory Window Film for Polycarbonate Roofs
Coolkote and Supertint window film for your polycarbonate conservatory roof
The build-up of heat can result in your conservatory becoming unusable. By applying specialist window film to your polycarbonate roof, you can ensure your conservatory always remains at an moderate, enjoyable temperature.
Most of the heat in a conservatory enters through the roof, so by applying film to this part of the conservatory, you can be guaranteed of the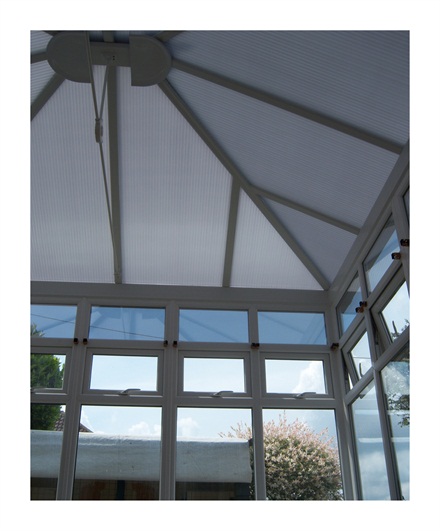 most effective results. The Window Film Company supply and install a film that has been specifically designed for use on polycarbonate roofs; CoolKote, from our Supertint range of window film.
Our Supertint films will not make your conservatory cold, instead preventing the heat from constantly building throughout the day, which can ultimately result in your conservatory being too hot to use.
In addition to maintaining a moderate temperature, CoolKote will also cut down on the glare, making it easier to enjoy reading or watching television in your conservatory.
Our teams of expert installers are vastly experienced in fitting window film to glass conservatories of all shapes and sizes. The film is effective immediately and with most jobs complete in under a day, an application of conservatory film to your polycarbonate roof is a quick, effective and cost efficient way to start enjoying your conservatory, even in the height of summer.
We are able to give you a quote over the phone, with the only information we require being the approximate sizes of your roof or the floor area. As well as providing a quote, our dedicated Account Managers will be able to provide any additional information you may require about the product and its installation.
For a quote or for more details about our window film for conservatories and other parts of your home, please call
01494 794477
.