High Performance Window Films for Glass
Professional quality high performance window films from The Window Film Company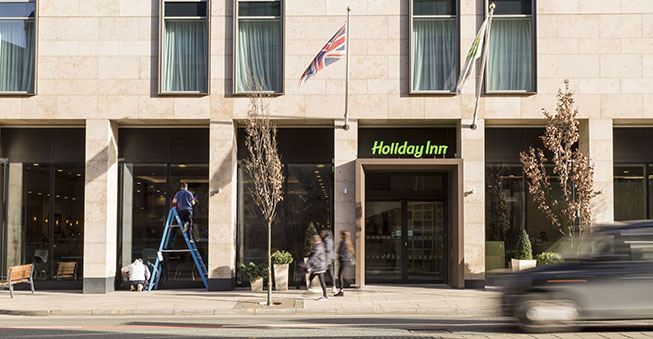 The Window Film Company has been supplying and installing high performance window films since 1998. Films are available on a DIY or fully installed basis, with only the highest quality materials used to deliver solutions for a host of glass related issues.
What is a high performance window film?
Simply put, window film is a product that has been developed to be retro-fitted to existing glass to solve a number of common problems. By using and supplying only high performance films, The Window Film Company can guarantee high performance results for all customers.
Window film for home and the workplace
The beauty of quality window film is that it can be used in an almost infinite number of locations. Each film supplied by The Window Film Company has been specially developed to deliver the highest possible performance, meaning each product is suitable for use in residential and commercial settings, providing a long lasting, durable and stylish looking solution for whichever issue you or your client is facing.
High performance privacy window film
One of the most popular uses for window film is privacy. There are two main options when it comes to delivering a privacy solution for glass using window film; one-way daytime privacy or a 24 hour two-way option.
One-way privacy is primarily achieved by using a reflective window film, which works by giving the exterior face off glazing a mirrored appearance during daylight hours. This prevents anyone from seeing inside, blocking the view into your home or workspace. While the view from the outside in is stopped, the view from the inside out is maintained, meaning that you can continue to enjoy the benefits of privacy without losing your view. These window films have also been developed to allow for excellent levels of light transmission, meaning that the interior environment will remain bright and enjoyable after the application of the film.
For 24 hour privacy, Frostbrite frosted window film is a trusted and popular choice, that once applied will give glazing the contemporary appearance of acid etched or sandblasted glass. The effect not lonely looks stylish and professional, but it also delivers immediate and long-lasting two way privacy, once again without sacrificing natural light.
High performance solar control window film
The Window Film Company offers a range of highly effective solar control window films, designed to help reduce the build up of excess heat and glare, also to reduce the effect of UV rays in your home or workplace.
The performance of the film is directly linked to the product chosen, so to best understand the window film that is most suited to your situation, please contact a member of the team on 01494 794477 or email info@windowfilm.co.uk – we're here and always happy to help answer any window film related queries.
Solar control window films work by reflecting away a percentage of the sun's solar energy, preventing the steady build up of excess heat. By reflecting away the heat before it can enter your property, the film delivers much higher performance than alternative methods such as curtains or blinds – both of which allow solar energy through the glass and into a room, in turn allowing the temperature to slowly build. Another way in which window film performs better than more traditional methods is that it won't block the view of natural light. Both curtains and blinds do both, blocking natural light and preventing a view from the outside in. With solar control window film from The Window Film Company, you can be assured of excellent levels of performance with the best possible look an uninterrupted view and excellent levels of natural light.
Safety and security window and glass films
Safety Window Films - Safety window film works by ensuring that if glass breaks, it does so in a safe manner. If untreated or standard glazing breaks, the shards fall away from the frame creating an immediate and dangerous hazard. Safety film holds the broken glass in place, preventing it from detaching and causing an issue.
Security Films - Windows and glass can be seen as a potential weak link when it comes to security, but an application of specialist window film can provide an effective barrier; serving to deliver increased security as well as peace of mind.
Bomb Blast Films - Bomb-blast protection is unfortunately required in an increasing number of situations, and The Window Film Company offer a comprehensive range of products to provide the best possible mitigation, including specially developed window films and attachment systems.
The Window Film Company's range of security films can be applied to existing glass, negating the need for expensive new glazing and with a range of grades and finishes, there is a film that is suitable for every situation.
Available in a range of thicknesses from standard safety film to bomb-blast protection, security film will allow the glass to withstand an amount of impact, serving to slow down and deter intruders, whilst also providing protection against accidental damage.
Window film patterns and printed graphics
The Window Film Company uses state of the art equipment, including high performance wide format printers to create decorative window film and full colour graphics.
Our ranges of printed or cut widow film are created from Frostbrite frosted film, with the designs either computer cut or printed in brilliant white ink. Whichever method you choose, you can be assured of a stunning decorative addition for glass, suitable for any room in the home – including demanding locations such as shower screens or bathroom windows.
The Window Film Company can also create bespoke graphics for use in commercial settings such as offices, restaurants and retail outlets. Graphics can be created that are suitable for application to glass frontages, partitions and windows, with a host of other products that are used for decorating virtually any flat surface, including walls, doors and cupboards.
For details on the range of eye-catching graphics opportunities that The Window Film Company offers, please contact a member of the team by calling 01494 794477 or email info@windowfilm.co.uk.
How to fit high performance window films from The Window Film Company
One of the many reasons for choosing high quality window films from The Window Film Company are that they are easy to install. Each and every product supplied by The Window Film Company is available to buy online, with each order supplied complete with printed fitting instructions and a free plastic application squeegee.
The process is straightforward. Firstly, clean the window as thoroughly as possible. Next, create a soapy water solution by adding a few drops of washing up liquid to a standard household plant spray bottle. Next, remove the backing sheet from the film and cover the film with a soapy water solution using the plant spray bottle to cover the entirety of the exposed film. Then do the same to the window, before taking the film to the glass and allowing it to flow into place. Use the plastic squeegee to push all the moisture out from under the film and use a clean cloth to mop up the excess water.
If you'd rather leave the installation of your window film to the experts; no problem! The Window Film Company's teams of fully qualified and vastly experienced installers operate nationwide and are on hand to deliver a first rate fitting at your home or place of work. For more information on the installation service or any of the products supplied and fitted by The Window Film Company, please contact a member of the team on 01494 794477 or email info@windowfilm.co.uk.