External Solar Bronze for NHS Building in Bristol
This two storey, Bristol based premises featured a number of large windows across the front elevation. Whilst the expanse of glazing gave the property a stylish appearance and delivered a welcome view to the exterior, those operating inside the building were suffering from the sun's glare.
A year round issue, glare can be particularly acute during the summer months with the bright light flooding through the glass, making it difficult to focus on screens or paperwork, increasing the likelihood of damaging eyestrain. The glare was making the internal environment uncomfortable and unconducive to work. A window film solution was sought.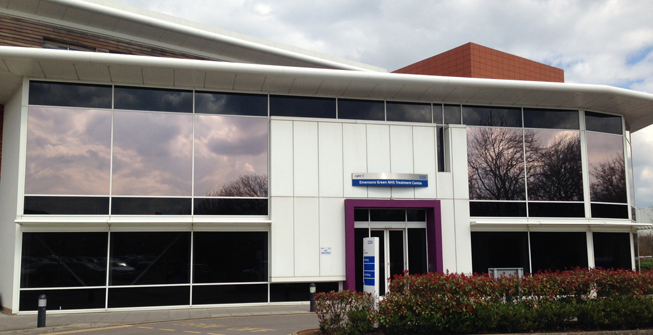 A window film was required that would cut down on glare without dramatically reducing the benefits that large windows deliver; a view to the exterior and comfortable levels of natural light. There were also logistical elements to consider as the layout of the property meant that an internal installation of film wasn't going to be possible. With the windows approximately 7 metres from ground level, this also meant that access equipment was necessary.
Solution:
After exploring the options available, Solar Bronze solar control film was selected for the project. It was chosen as it provides excellent levels of glare reduction, is available in an external grade whilst also delivering an aesthetic appearance that matches the current look and style of the building.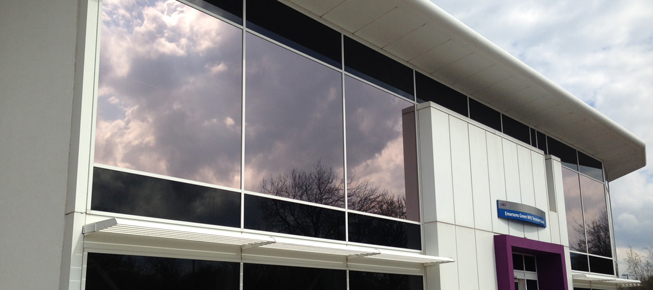 The film is a high performance product, reducing glare by up to 77% whilst allowing good levels of natural light to pass through the glass and without blocking the view to the exterior. Each pane was an average of 2.5 metres in width and 2.8 metres in height, with the film installed by a two man team using a 5 metre scaffold tower.
Outcome:
Following installation, the glare reduction was effective immediately, with the bronze finish of the film complementing the external appearance of the building.
Project details:
Film type: External Solar Bronze
Issue: Glare
Glare reduction: 77%
Project size: 9 large panels, fitted externally.
Project length: 1 day