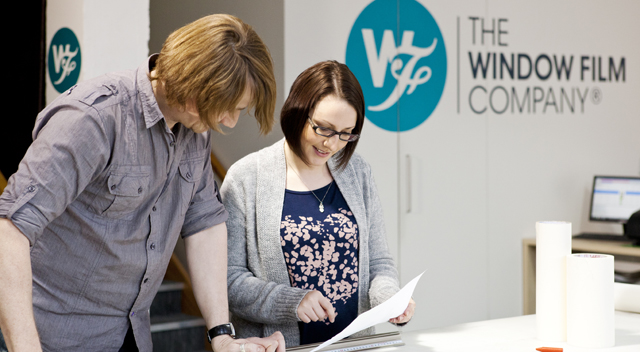 Bespoke Window Film Design Service
As well as a range of attractive online designs, The Window Film Company offer a bespoke design service, allowing you to add a unique and appearance to your window film solution.
In addition to the range of designs available online, The Window Film Company's in-house graphics team is able to create custom made designs, adding a truly personal touch to your windows and glass. Our graphics team will work closely with you to talk you through every stage of the process, ensuring that the finished product is exactly what you want.

Custom designs can feature text, numbers or designs you have created yourself and with all designs including our standard range computer cut, you can be assured of the perfect finish whatever you choose or design.
Prices for the bespoke design service will vary depending on the complexity of the design as well as the quality of the artwork you are able to provide us with, so if you would like further details and an idea of cost, please call us on 01494 794477 and we'll be happy to advise.

If you are looking for inspiration or would like to browse our range of existing patterns, visit the online catalogue here. You can order online quickly and easily, with orders placed before 1pm despatched via courier the same working day. Delivery for online orders is free of charge.