Bespoke Window Film Design Service
Bespoke, custom created window films and printed graphics for the home, office, shopfront or restaurant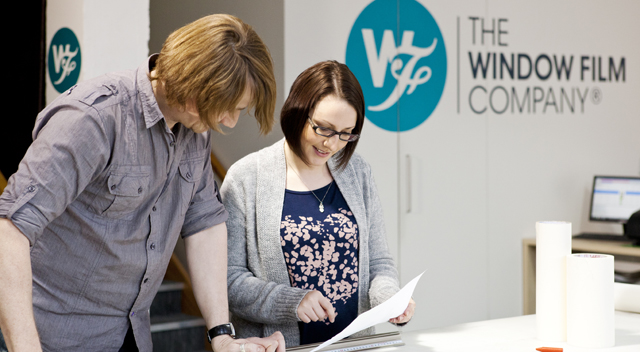 Since being founded in 1998, The Window Film Company has developed a range of decorative solutions and printed graphics options, available on both a DIY and fully installed basis. Whether you need decorative window film for your home, or high quality branding or graphics for your office, The Window Film Company's print and design service can help.
The Window Film Company uses a wide range of high quality window films and printable media, combined with state of the art printing and computer cutting technology to create stunning bespoke designs for both residential and commercial settings. Ranging from frosted window film to stained glass effects, as well as adhesive vinyls available in a range of vibrant colours, there is sure to be an option to meet your needs and requirements.
Decorative window films for the home
Adding a decorative flourish to your glass is easy with window film. You can choose from our extensive range of gorgeous cut patterns, or our stunning collection of white printed designs, both created from our popular Frostbrite frosted film, which once applied will give your glazing the look of acid etched glazing or sandblasted glass.
Cut patterns are created, as the name suggests, by computer cutting the design from the Frosted film. This means that the patterned area is see through, with no film visible so please consider the nature and style of the pattern if you are looking to utilize a frosted cut pattern as part of a privacy solution.
The Window Film Company's beautiful range of white printed designs are created by using state of the art print technology to print the design of your choice in brilliant, pure white ink onto Frostbrite frosted window film, making a unique and stylish decorative addition to your glass, while also providing a privacy solution that looks great and doesn't sacrifice natural light.
If you choose a cut or printed frosted pattern, each order is a fully bespoke, custom created piece of film, with the panel precision cut to the exact size specifications you supply and the pattern scaled to best suit your dimensions. By ordering a bespoke patterned window film, you can be assured of a product that is perfectly sized for your glass, resulting in an easy installation process and a perfect finish.
It's also possible to order rainbow window film, our range of colourful films, cut to size for DIY installation. These films will immediately change the colour of glass without blocking the view or sacrificing natural light. With an extensive range of bright and vibrant shades to choose from, you can choose a single colour or mix and match to create a stunning stained glass effect.
Bespoke branding and printed graphics
If you want to add bespoke, custom created designs, branding or graphics to your glass and other surfaces, The Window Film Company is perfectly positioned to help.
Window film provides the perfect material on which to print your own designs, with a range of options available to deliver the exact finish you and your situation requires. Printing on optically clear film is the perfect way of recreating intricate graphics, giving the appearance of cut graphics – perfect foo use on shop windows or glass partitions. Printing onto frostbrite frosted film can deliver privacy as well as a brand new look while adding graphics to safety or security film can make a functional requirement deliver a stylish new look.
Internal surfaces such as walls and doors can be upgraded to feature your chosen graphics by using digital wallpaper, while specialist films are available for changing the appearance of traditionally difficult to decorate surfaces such as brick walls. Where previously the solution might have been unreliable window stickers or single use, unprofessional looking wall stickers, these options from The Window Film Company mean that whatever your surface, it's likely that a high performance, impressive, eye-catching and professional looking solution can be created and installed.
The Window Film company's graphics team will work with you to ensure that you make the correct decision and to ensure that your bespoke artwork will be recreated to deliver the finish your project or premises demands. A member of The Window Film Company's expert team will be on hand throughout the process, including right at the beginning, so if you have any questions about how you can make your ideas and plans for bespoke, custom created graphics and designs a reality, please call a member of our team on 01494 794477 or email info@windowfilm.co.uk.
Printed graphics and window film installation service
As well as offering a full Account Management service and a dedicated print and graphics team, The Window Film Company also offers a nationwide window film installation service. Our teams of fully qualified and vastly experienced window film fitters are available to complete a glass film installation of any size on your behalf, whether it is at a residential or commercial property.
For more general information, an installation quote or for more details about what The Window Film Company can help you achieve when it comes to bespoke branding and custom created design and eye-catching graphics, please contact a member of our team by calling 01494 794477 or email info@windowfilm.co.uk.