Conservatory Cooling Films for Windows & Glass
Prevent the heat from building up in your conservatory or garden room using solar window film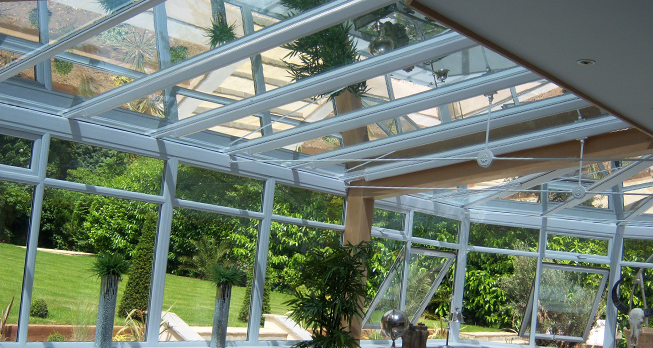 Conservatories can be a great addition to a home. Extra space that is flooded with natural light, delivering an uninterrupted view from the inside out. All too often, however, conservatories can overheat, quickly becoming uncomfortable and in some cases unusable.
Specialist conservatory cooling film from The Window Film Company is designed to help beat the heat and to keep the temperature in your conservatory, summer house or orangery at comfortable levels.
The choice of window film you use for cooling your conservatory will depend on the material your roof is made from. Typically, roofs are constructed of either glass or polycarbonate, with a solar control window film available from The Window Film Company for both types.
Heat reduction for my glass conservatory roof
Overheating in conservatories occurs as solar energy is allowed to pass through glazing unchecked, steadily raising the internal temperature until it can reach unpleasant and uncomfortable levels. It is important to understand this heat build-up issue is a common problem, not just exclusively occurring in a south facing conservatory or orangery, you'll know from your own experience that all conservatories get hot!
Of course, some of the major benefits of a conservatory are the excellent light levels and the view of the outside, so blocking either of these elements with expensive blinds would be counter-productive. Solar control window film is a cost efficient and immediately effective alternative, available on a DIY or fully installed basis, with versions suitable for both polycarbonate and glass panels/windows.
So, how does it work? Known as supertint glass, our conservatory cooling film works by rejecting up to 78% of the sun's total solar energy, also serving to reduce glare and blocking potentially harmful UV rays. The film is effective thanks to the reflective appearance of the film, which during daylight hours will be the external face of the film. This mirrored effect serves to bounce away solar energy (which causes heat) before it can pass through the glass and add to the internal temperature. By reducing the amount of heat that is able to enter your conservatory it won't make it cold, instead serving to reduce the steady build-up, in effect filtering out the excess heat.
Once installed the film will give the external face of the glazing a silver, mirrored look which will prevent vision in from the outside. Vision from the inside out will be preserved, however, enabling you to enjoy an uninterrupted view. The film has also been specially developed to deliver high performance heat reduction without sacrificing high levels of natural light.
Supertint glass window film for your conservatory will reject 78% of solar energy, deliver glare reduction of up to 79% and block 99% of UV (Ultra Violet) light.
Heat reduction for my polycarbonate conservatory roof
The Window Film Company also offer a specialist heat control film for conservatories with polycarbonate roofing. Supertint Poly will reject up to 76% of solar energy, once again meaning that excess heat is prevented from passing through the polycarbonate surface and into your conservatory.
The appearance of Supertint Poly is a frosted style effect. Once applied, the film will give your polycarbonate panels the appearance of a frosted surface, with light able to pass through, but no vision.
For more details on any of the available options for your conservatory roof, for samples or an installation quote, please contact a member of our team by calling 01494 794477 or email info@windowfilm.co.uk.
Cooling film for windows
Of course, you may wish to add window film to your conservatory (or home) windows, to increase the levels of solar control. Heat will pass through any untreated glass, so applying film to the side panels can create an even more effective solar control solution.
Additional benefits of conservatory window film
An application of window film can be applied to both the roofs and windows and it won't just deal with the heat; it can help with other issues too. Glare can be an all year round problem, with the bright sunlight of the summer and the low lying position of the sun during winter months often leading to light entering your conservatory at awkward angles, making it difficult or uncomfortable to focus on screens, papers or work. Depending on the film you choose, an application of window film will reduce glare significantly – by up to 79%.
Energy saving should also be a consideration if you have thought about or even installed electric fans or air conditioning to deal with excess heat in your home or office. Heat rejecting window film applied to your conservatory roof and windows is cheaper than installing and running fans and A/C units and is also better for your pocket and the environment generally.
Fading can also be a major issue, especially for premises with a large number of windows, or locations with glass roofs such as conservatories. Fade damage can often go undetected until it is too late, caused by a combination of three main factors; UV rays, heat and sun glare or light. By blocking 99% of the sun's UV light, as well as reducing heat and glare, an application of solar control window film will also help slow down and fight against the fading process; protecting flooring, furniture, upholstery and belongings.
How do I apply window film to my conservatory roof?
While it is possible to install window film with no prior experience, due to the nature of fitting window film to a roof, we recommend considering The Window Film Company's nationwide installation service. To begin the process of getting a quote for an installation of conservatory film, all one of our team will need is a measurement of the floor area in your conservatory. This will provide us with the information we need to give you a guide to the cost of installing window film to your conservatory.
If you would like to fit the window film yourself, the process requires you to firstly clean the window as thoroughly as possible. Next, create a soapy water solution by adding a few drops of washing up liquid to a plant spray bottle full of water. use the spray bottle to cover the pane of glass with the soapy water. Next, remove the backing sheet from the film and use the spray bottle to cover the exposed side of the film with the soapy solution. Take the film to the glass and manoeuvre it into position. Once it is in the desired place, use the application squeegee (supplied free of charge with each online order) to push the water to the edge of the pane, using a clean cloth to mop up any excess moisture.
Window film to keep your conservatory cool is effective and cost efficient, as well as being long lasting, durable and stylish. For more information, samples or a quote, please contact a member of our friendly team on 01494 794477 or email info@windowfilm.co.uk.