Impact Resistant Glass Window Film Shattershield®
Glass protection film for enhancing the impact resistance of glass panels, glazing and windows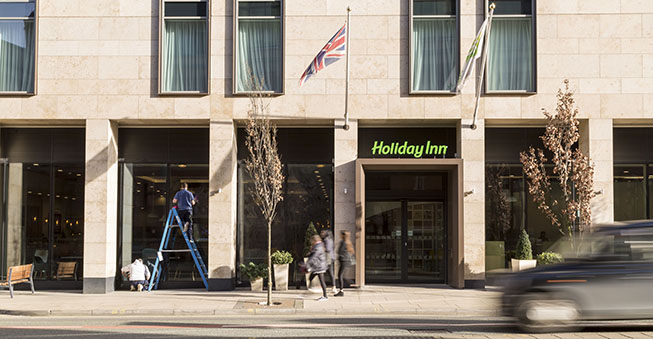 Broken or damaged glass can be an expensive and disruptive problem. Protecting your glazing with Shattershield® from The Window Film Company is a cost-effective way of delivering both peace of mind and a high-performance layer of protection against accidental or malicious damage, from broken glass shards or flying glass.
Glass can be a delicate material if left untreated. Cracks and chips can be caused by the most innocuous incident, while malicious and unlawful damage is regrettably an ongoing threat. Regardless of how glazing is damaged or broken, the need to protect people is clear. Replacing damaged and broken glass is costly from both a financial and disruption point of view. An application of Shattershield® will provide a near-invisible protective layer, providing immediate and long-lasting defence against damage.
Shattershield® has been developed to be optically clear, meaning that once applied it is virtually undetectable to the naked eye, unlike most solar control films which are specifically designed to help with energy efficiency and heat rejection. This makes the Shattershield® solution ideal for situations where high-level protection is required but the appearance of the glass needs to remain unaffected. Examples could include hotels, shopfronts and residential properties, but the film is suitable for any glazing that requires a layer of protection.
This patented safety and security window film is an impact resistant product that works by absorbing the impact of standard hazards such as stones kicked up by passing traffic, while also protecting glass against intentional damage. Once applied, the film is easy to clean – simply treat the film as you would a normal window, while the transparent nature of the film means that passers-by or the general public will still be afforded a view into your property or premises.
In the event of the film becoming damaged, it takes on the properties of a sacrificial barrier – the film can be replaced at a far lower cost than replacing the glass.
Shattershield® window film utilises a unique adhesive that has been designed to deliver a strong bond without being permanent; should the need arise for the film to be removed and the existing glass returned to its original state, it can be achieved.
In addition to this specialist window film, The Window Film Company also offers a number of high-performance window films, including safety film that serves to hold broken glass together in the event of accidental or malicious glass breakage. This type of film is available in a range of finishes, including, like Shattershield, a completely clear and undetectable finish, and works by holding glass together if it is broken, stopping it from falling in on itself, causing potential damage and injury. The film has high tear resistance, and once applied by our installers, safety window film will upgrade your glass to meet safety glass standards.
Unfortunately, more rigorous defences can be required, with The Window Film Company supplying and installing film designed to provide protection in the event of bomb blasts. These high-performance films can be installed with state of the art attachment systems to provide the ultimate in protection. These films are designed to meet a very specific need, so it is important to discuss the options and your exact situation with a member of our special team before proceeding with this type of product – you can reach one of our experts by calling 01494 794477 or by emailing info@windowfilm.co.uk.
Shattershield® impact resistant window film can also be installed alongside other films to deliver additional benefits. A dual application of film can provide solutions for sun control, heat reduction, privacy and even decoration – if you have a glass related issue of any sort, The Window Film Company can help.
Glass and glazing is a potentially fragile material that is expensive to replace. Shattershield® can allow you to enjoy the benefits your windows bring without the constant fear of having to invest in expensive and time-consuming replacements. Call us today and take your first step towards protecting your glass in a cost efficient and effective way.
The Window Film Company offers a nationwide installation service, meaning that you can be guaranteed a perfect finish. For more details about the film or a window film installation call 01494 794477 or by email info@windowfilm.co.uk.