Window Film to Block the View
Increase privacy and block the view by applying window film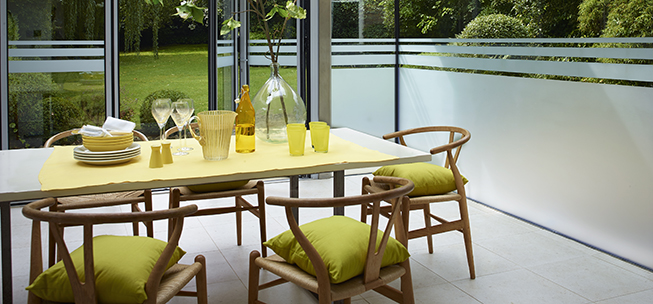 Blocking the view can be necessary for a number of reasons. Your living room might be street-facing and in need of privacy, you might want to add some screening to your bathroom or shower door. Whatever your privacy needs, The Window Film Company offers a range of stylish and easy to install window films that are sure to provide the answer you need. This is how to use window film to block the view.
Window film has been specially developed to be as effective, easy to install and stylish as possible. The film is a retro-fit product, meaning it has been created to be added to existing windows, so if you do realise that you need privacy for your home or workplace, it's easy to add to your glass for an immediate, effective and stylish result.
What window film can I use to block the view?
When it comes to privacy window film there are two main options, with a number of different films available for each type of privacy solution. The details below should provide you with the information you need to make an informed choice, but if you require any additional help or guidance regarding our view-blocking window films, please contact a member of our team by calling 01494 794477 or email info@windowfilm.co.uk.
One-way daytime privacy window film
One-way privacy can be achieved with an application of mirrored effect reflective window film. The film works by giving the exterior face of glass a mirrored appearance, preventing a view from the outside in. Passers by will be greeted with their own reflection during daylight hours, with the specially developed mirrored window films still allowing for excellent levels of light transmission and a view fom the inside, out.
This privacy film for glass is designed to provide effective daytime privacy, as the film works on the light balance. It's the side of the film that is exposed to the highest light levels (during the daytime, this will be the external side) that takes on the reflective appearance. For 24 hour privacy, see the section below or ask a member of our team for details on our frosted film or solid colour window films.
One additional benefit of these reflective mirror films is their solar control properties, which in addition to offering a level of one-way privacy in the day, also cut down on the glare and UV rays that come through your windows. This means window tinting with the right reflective film can be useful in many situations, the home office, your front door, the list is virtually endless.
If you are in a situation that requires privacy, you may have found yourself shutting curtains or closing blinds during the day. This is far from ideal as by doing so, you are removing some of the main benefits of windows – providing a view to the outside and ensuring that your room benefits from natural light. Closing windows or blinds will give you privacy, but at the cost of both these benefits. Window film will give you the privacy your home needs while protecting the benefits of glazing.
Two-way privacy window film
If you would like a privacy solution that blocks the view from both sides of the glass, then Frostbrite frosted window film is a popular choice – and for good reason! Once applied to glass, Frostbrite will give your glazing the appearance of acid etched or sandblasted glass, blocking the view from both sides of your window while also delivering a stylish and contemporary look with its white frosted appearance.
Frosted window film also allows for excellent levels of natural light transmission, making it perfect for use in any room in the house.
The Window Film Company also offers a stunning range of cut and printed frosted patterns, providing you with the opportunity to deliver privacy and a new decorative feature. You can choose from cut designs (the pattern is cut from the film leaving a patterned area through which vision will be possible) or our collection off stunning white patterns, with the designs printed in brilliant white ink onto your frosted glass film.
There are also a number of exclusive designer collections available, each offering an exciting, eye-catching, stylish and beautiful range of patterns, with each order created to your exact size specifications, meaning you receive a genuinely bespoke product every time you order.
Is it suitable for use in my bathroom?
One of the most common places for needing privacy is the bathroom. For fairly obvious reasons it can be helpful to block the view through windows or shower screens, with Frostbrite frosted window film the ideal solution. It has been specially developed to be long lasting and durable, which includes being resistant to water and moisture. Once the film has been installed, it can be cleaned in exactly the same way as you'd clean a standard untreated window – just be sure to not use anything that will scratch the film or glass and try to avoid using ammonia-based cleaning products.
How do I install a privacy window film?
Window film for privacy glass benefits from a straightforward application process. Fitting the film is a task that can be successfully completed with no prior experience and nothing more than a few standard household items, although we do recommend that if possible, installation is undertaken by two people, especially if working with larger pieces of window film.
To begin the process, clean the window as thoroughly as possible. It's definitely worth taking your time with this – the cleaner the window, the better the installation is likely to be. Next, create a soapy water solution; this can be done by adding a few drops of washing up liquid to a plant spray bottle full of water. Use the spray bottle to completely cover the window with a soapy water solution. Next, remove the backing sheet and do the same to the exposed surface of the film, completely covering the film in water. Then, take the film to the glass and allow it to flow onto your glazing. The soapy water will work as a slip solution, allowing you to move the film into the desired position before using the free plastic squeegee (supplied with every order) to push the remaining moisture to the edge of the pane. Use a clean cloth to dry up the water and you're done!
Installed by the experts
If you'd rather not attempt the installation yourself, don't worry – we've got you covered. Our nationwide fitting service is available to all customers, with fully qualified and vastly experienced installation teams on hand to carry out a perfect fitting. For details on this service, a quote or more information on any of the films supplied and installed by The Window Film Company, please call a member of our expert team on 01494 794477 or email info@windowfilm.co.uk.