Bespoke Manifestation creation and install for a London Office
The Window Film Company has created and installed custom graphics to meet manifestation and decorative requirements at a Westminster Office space.
The graphics were created and installed by The Window Film Company across several floors at the London premises, delivering on a need for manifestation and a desire for an added element of decoration.
Requirement
Manifestation markings are required by building regulations on glass of a certain size; usually floor to ceiling glazing. The regulations dictate that the markings must be of a minimum size, be present at a certain point on the glass and must provide a contrast between the glass and the background. These markings are required to make large panes of glass easily visible, in turn serving to help avoid accidents and collisions.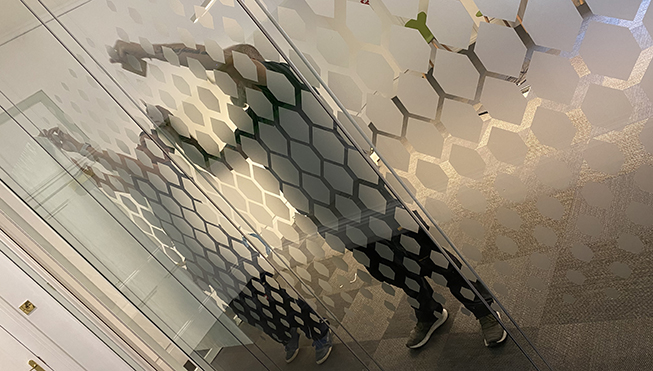 For this project, the client had a custom created pattern, featuring repeated hexagonal shapes in increasing and decreasing sizes, all combining to deliver a stylish geometric design. The Window Film Company was approached to provide a solution.
Solution
After discussions with the client, it was agreed that the design would be created from Frostbrite frosted window film. Frostbrite is a durable frosted window film that gives glass the appearance of acid-etched or sandblasted glass. It provides the necessary contrast to be ideal for manifestation, can be computer cut to create intricate patterns and designs and is long lasting and hard wearing, making it perfect for this project.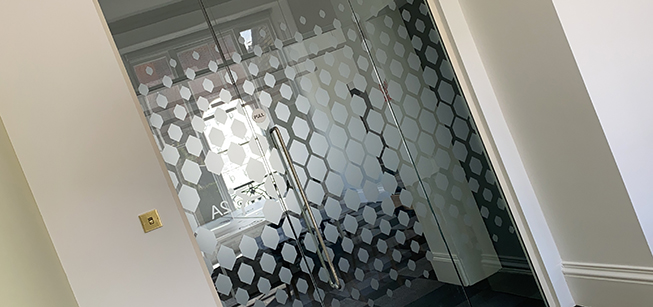 The design was cut from Frostbrite by The Window Film Company's graphics team, using state of the art computer cutting technology to deliver a perfect recreation of the design for each of the windows.
Each panel was checked by hand before being installed by a team of The Window Film Company's fitters.
Result
With the film in place, the glass met manifestation requirements while also delivering a stylish and professional new look. The Frosted appearance of the Frostbrite window film provided the perfect contrast needed for manifestation markings, while the sleek geometric pattern gave the glass a sleek and impressive finish.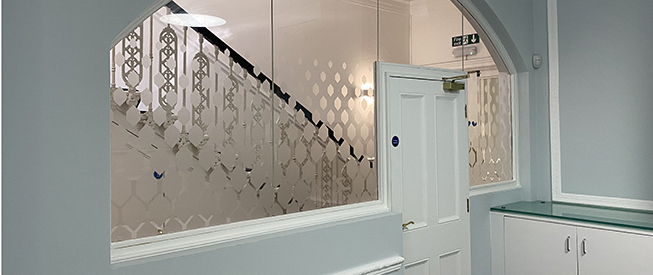 Project Summary
Frostbrite window film used to meet manifestation requirements
Custom created design created using state of the art cutting equipment
Graphics created by The Window Film Company's graphics and design team
Installed by The Window Film Company