Glare Reduction Window Film for IKEA
The Window Film Company has completed the installation of specialist glare reduction film at an IKEA store in Hampshire.
With a commitment to ensuring a comfortable environment for employees and visitors, IKEA contacted The Window Film Company to provide a glare reduction solution for glass in public and private areas of their large Southampton store.
Requirement
The branch benefits from large windows throughout, including in the store area and in office areas used by IKEA staff. While the windows deliver a light and airy environment, providing a view to the exterior and allowing for high levels of natural light to illuminate the store, in some locations there was an issue with the amount of glare.
Glare can be a year-round issue, with the angle of sunlight making it difficult to focus or see comfortably. This was proving to be a problem for some members of staff who were based in specific parts of the office area, while certain spaces in the publicly accessible parts of the store were also experiencing too much glare, making it an uncomfortable experience for customers. The Window Film Company was approached for a solution.
Solution
After discussing the situation with the project team at IKEA, it was agreed that the best solution would be Medium Reflective Silver, chosen as it met the performance criteria while also meeting the aesthetic requirements.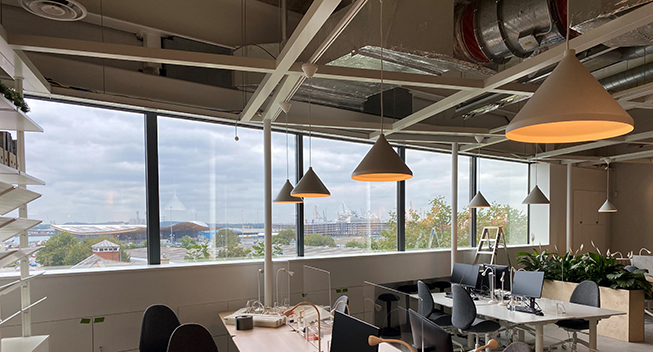 As the name suggests, the film has a reflective exterior appearance – ideal for the sleek and contemporary outside appearance of the store. The film also allows decent levels of natural light to pass through the glass, so while it does reduce glare (while delivering a number of other benefits) it doesn't' do so by sacrificing natural light or the view from the inside out.
Once in place, Medium Reflective Silver will filter out the harshest of the sunlight, reducing glare by up to 65%.
The film also helps to reduce excess heat, rejecting up to 67% of the sun's solar energy. It does this by reflecting away the heat before it can pass through the glass, adding to the internal temperature. The film also rejects 99% of potentially harmful UV rays – the biggest single contributing factor to fading. All this is achieved without sacrificing natural light or the view from the inside out.
Result
The film was fitted by a team of The Window Film Company's fully qualified and vastly experienced to 43 square metres of glazing throughout the store. Once in place, the film was effective immediately, serving to reduce glare all year round, while also reducing excess heat and helping to protect against fading in the filmed areas.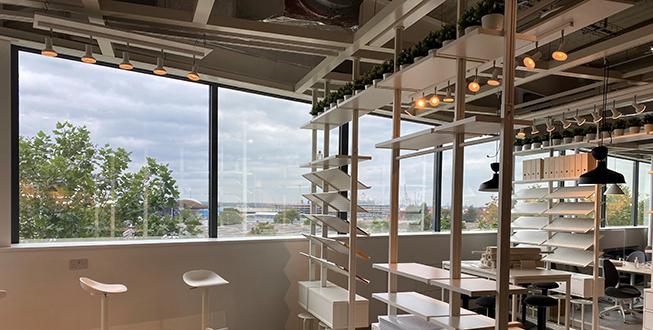 The key aim of reducing glare was achieved in a cost-effective way, without sacrificing valuable natural light of the view from inside to the exterior.
Project Summary
Glare Reduction film fitted to over 40 square metres of glass
Medium reflective Silver reduces glare by up to 65%
Provides additional benefits including UV protection and excess heat reduction
Delivers high levels of glare reduction without sacrificing natural light or the view
Sleek, stylish and contemporary external appearance
Supplied and installed by The Window Film Company