Window Film & Manifestation Swatch
Information and specification details in our manifestation and window film sample swatch book
The Window Film Company is committed to making it as easy as possible for our customers to make an informed choice about window film products and solutions. To help you make a decision we have created and produced a handy swatch book...
This professionally bound and produced book contains over 100 pages of samples alongside technical and specification data for each of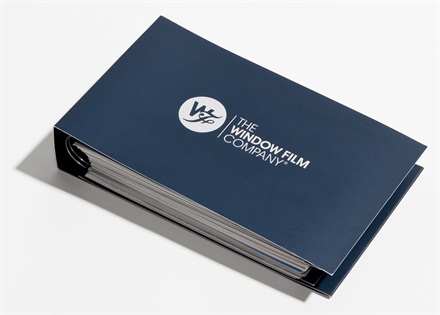 our films, making the ideal tool for deciding on the product that is right for you.
Our products are listed on NBS Plus, with information and photographs available on our website, whilst the swatch book provides a fantastic reference point for details on our range of solar control film, safety and security film, frosted films, bomb blast protection products alongside our manifestation and printed graphics.
If you would like a copy of the swatch book, please contact us on 01494 794477 and ask to speak to our specification department. If you would prefer a downloadable version, you can download a PDF of the swatch book by clicking here.
If you have any questions about the swatch book or the samples and information within it, please contact us on 01494 794477. Our offices are open between 9am-5pm from Monday to Friday.
There are over 100 types of film within the swatch book, complete with a stat sheet for each product providing detailed performance data.