Patterned Window Film for the Glass in your Home
Patterned window films are a stylish way of bringing a new lease of life to your glazing, without paying for expensive replacement windows.
Decorate your windows

With frosted film from The Window Film Company

Decorate your windows

With frosted patterns from The Window Film Company

Decorate your windows

With frosted patterns from The Window Film Company
The Window Film Company offer a wide range of window films that can be used for decorative purposes, each with a different appearance and finish, with all films available to buy online for a straightforward DIY installation.
The Window Film Company's Frostbrite range of frosted window film is one of the most popular ways of updating glazing. An application of the film instantly provides the classic appearance of acid-etched or sandblasted glass, providing a complete transformation at a fraction of the cost. Once applied, the frosted window film will provide privacy, whilst still allowing for a good level of natural light to pass through the glass. The tough, durable nature of the film means it is suitable for application in demanding locations such as bathrooms and shower screens.
Whilst frosted film provides an aesthetically pleasing finish in its own right, it is possible to add further decorative touches. The Window Film Company offer a range of cut designs, which will see the pattern of your choice computer cut from the frosted film. We offer a wide range of varied patterns, meaning there is sure to be a design to suit your windows, as well as a range of designs specifically for house numbers and names, perfect for identifying your home in a stylish fashion.
The Window Film Company also offers a range of elegant white printed designs. Ideal for when privacy is required with an extra style dimension, the designs are printed in vivid white ink and can serve to transform your glazing into an eye-catching and stylish feature.
Alternative decorative options in include our stained glass effect window films. These vibrant, colourful films are an effective way of adding colour to your glass, allowing vision from both sides of the glass whilst totally transforming their appearance.
Our range of printed patterned films provide a choice of geometric, repeated patterns. Ideal for application to glass throughout the home, the patterns are printed in a frosted effect, providing a contemporary way of adding an extra dimension to windows and glass.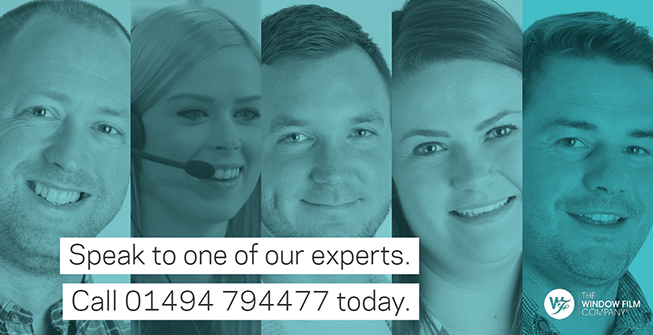 All of our patterned window films are available on a supply only (DIY) or fully installed basis. Please contact us on
01494 794477
to discuss your options.