Office Branding Printed Graphics for Office Fit Out
The Window Film Company played a major part in an extensive office refurbishment in Ipswich, delivering both solar control and privacy solutions, in addition to the print and installation of an impressive range of full colour graphics throughout.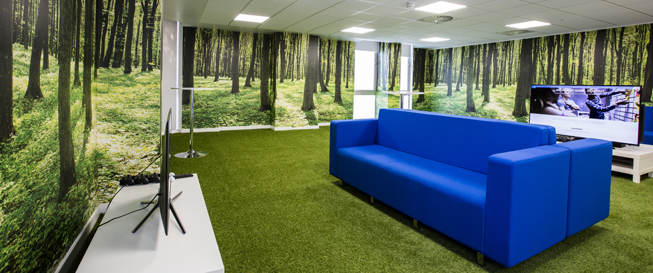 Ensuring office space is comfortable, inspiring and professional in appearance is a vital focus for businesses of all sizes. Premises need to be a place that staff and visitors enjoy spending time in, with a number of factors playing a part, including aesthetics, comfort and functionality.
The Window Film Company were engaged to deliver a three part project that involved three components. Privacy, solar control and printed graphics.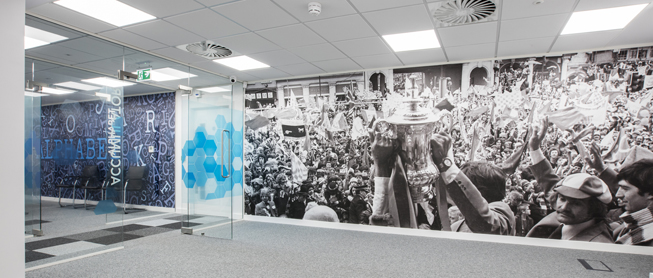 Privacy
The large office is located on the ground floor of a large development in Ipswich town centre. This prime location meant a large amount of foot traffic passing by the office windows, a privacy solution was required. The Window Film Company installed Contra Vision privacy film to deliver the necessary result, a perforated window film that allows vision from the inside out.
The film contains hundreds of small holes, that on the internal side allow the eye to see an interrupted view. On the exterior side, the film appears as solid white, preventing any view in.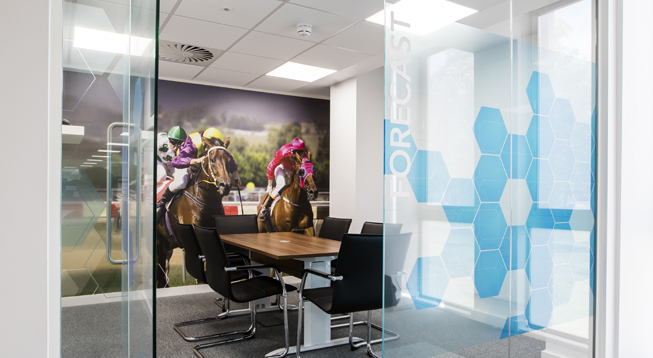 Solar Control
Wherever there is glass there is a danger of excess heat. Left untreated, windows can allow the sun's energy to continually stream into premises, steadily raising the temperature until, especially in the summer months, the internal environment becomes uncomfortable. To negate this problem, The Window Film Company installed Optiview 05.
Optiview is a range of high performance solar control films, with the selected product reducing excess heat by 85% while also cutting out 94% of glare. During daylight hours the view to the exterior is maintained, while the outside face takes on a stylish and contemporary reflective appearance. As with the Contra Vision, the film was applied to the internal face of the glass and once installed, was effective immediately.

Graphics
The most eye-catching element of the project was the application of full colour graphics throughout the office. From the entrance area to the break out area and meeting rooms, carefully considered graphics were applied to the walls - instantly giving the office a professional, stylish and inspirational look.
The video below shows the range of the printed graphics involved, which included the transformation of the staff rest area into a soothing forest scene and the introduction of Usain Bolt onto one of the office walls.
Result
With the three elements of the project complete, the office was not only transformed from an aesthetic point of view, but was also assured of a comfortable internal environment thanks to the solar control film, with privacy also delivered.