High Quality Window Films Supplied & Installed
Different types of high quality, top performing films for glass and windows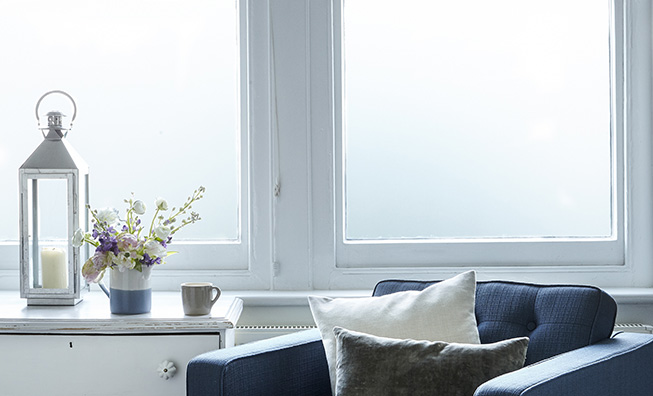 The Window Film Company has been supplying and installing high quality window film since 1998, providing customers with solutions for a range of glass related issues such as heat reduction, privacy and safety.
High quality window films are manufactured to deliver long lasting solutions, are durable, easy to fit and look great. They are designed to be applied to fitted to existing windows and glazing, with both internal and external grades of film available. Window films are available in a range of finishes to deliver the look you want and the performance you need.
What can be achieved with a window film?
Window films sometimes referred to as window tint or window coverings, provide an easy to apply way of giving your windows a stylish new look or an enhanced level of performance. You can use films as a modern and attractive alternative to net curtains when you need privacy, or as a way of protecting against overheating.
The extensive range of window films available are all advanced products, offering huge improvements on older products like static cling or inferior options such as window stickers. Film is often referred to as sticky back plastic, but we can assure you, it is much, much more than that!
Window film for privacy
One of the most popular reasons for installing window film from The Window Film Company is privacy. Net curtains look outdated and are a hassle to clean while closing curtains or blinds block both the view and natural light. Window film delivers privacy without any of these drawbacks, while also delivering a stylish and contemporary new look.
One of the most widely used privacy window films is Frostbrite frosted film. The film is easy to install, and once in place, it gives the glass the appearance of acid etched or sandblasted glass, providing a beautiful new look that is suitable for the home, office or workplace. The film works by blocking the view from both sides of the glass while still allowing excellent levels of natural light to pass through the pane.
By frosting your window, you are assured of 24-hour two-way privacy, but a one-way daytime privacy option is also available. Reflective window film will block the view from the outside in during daylight hours, providing the exterior face of the glass with a mirrored effect that prevents a view from the outside, but allows vision from the inside out.
Decorative window films
Window films can be used to give your glass (and other surfaces) a stunning new look. The Window Film Company offers a range of pre-printed decorative window films that are available to buy on a DIY basis by the metre from https://www.windowfilm.co.uk/buy-online/window-film-by-the-metre. After something a bit more bespoke? No problem; you can choose from a range of printed or cut designs, with each order created to your exact size specifications. Make your choice from a host of creative cut patterns of wonderful white printed illustrations. You can also bring a piece of genuine designer style into your home by choosing from our range of eye-catching and exclusive designer window films.
Whatever your style or taste, there is sure to be a decorative window film to suit you and your home.
Heat, glare and fade reduction with window film
Where there is glass, there is usually an increased temperature. Left unchecked, the sun's energy and harmful UV rays pass through glass, steadily heating up the inside of your home, conservatory or workplace until it is uncomfortable. An application of window film will help mitigate against this, by reflecting away a percentage of the sun's energy (heat) before it has a chance to enter the room and take effect. UV blocking or UV protection can be achieved with both mirrored window films and other non reflective high quality products that can still be seen through.
The way solar control window film works means it is far more effective than curtains or blinds, both of which allow heat to pass through the glass as well as blocking both the view and the natural light.
As well as providing a high quality and long lasting solar control solution, window film from The Window Film Company will also reduce unwanted glare and help protect against fading. For more details on these films and to get an understanding of which film will best meet your requirements, please contact a member of our team by calling 01494 794477 or email info@windowfilm.co.uk.
How to install window film
Window film, either from a roll of film or cut to size pre cut pieces, can be installed with no prior experience and nothing more than a few household items. The first step in the process is to thoroughly clean the window. Next, create a soapy water solution in a plant spray bottle. This is done by adding a couple of drops of washing up liquid to the spray bottle full of water.
Remove the backing sheet from the film and use the spray bottle to cover the exposed film. Then do the same for the window, covering the entire pain with the solution before taking the film to the glass and allowing it to flow onto the pane. The soap in the water creates a slip solution, in turn allowing you to easily move the film into the exact position you require it. Then use the free application squeegee (supplied with each online order) to push the remainder of the moisture and any air bubbles to the edge of the frame. Use a clean cloth to wipe away the excess water and you're done!
While fitting film to your glass is a straightforward process, if you'd prefer it to be done by an expert – we've got you covered. The Window Film Company offers a nationwide film fitting service, with our expert teams of fully qualified and vastly experienced available to carry out a professional installation at your home or workplace.
For more information on any of the high quality window tints and films supplied and installed by The Window Film Company, please contact a member of our team on 01494 794477 or email info@windowfilm.co.uk.