Types of Stick On Window Covering Films
Window films, static cling films, windows stickers and which sorts are good for what uses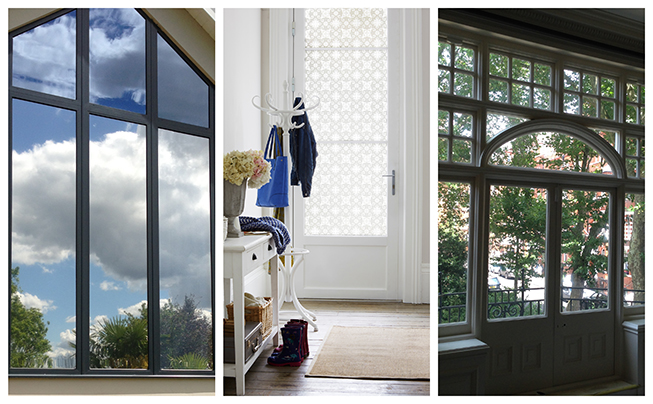 The Window Film Company supplies and installs a host of glass window films, with an extensive collection of products, containing types of stick on, window covering films that will deliver highly effective and long-lasting solutions to your glass-related issues.
Here you will find an introduction to the range of window films offered by The Window Film Company, each offering a different solution, performance and appearance. Each of them has been specially developed to provide an effective and stylish window covering, with each designed to stick on to glass with the minimum of fuss and a perfect finish.
What are window films and coverings?
The window films supplied by The Window Film Company are advanced products, designed to be retro fitted to glass. Best results are achieved by fitting the film to the interior of glazing, but external grade window coverings are available if an internal fitting isn't possible. The films are thin but long lasting and durable and are designed to be suitable for use in both residential and commercial settings.
Privacy window film types
Window film is a popular and effective choice for adding privacy to glass. There are a number of ways it can be achieved, with two-way opaque window films and daytime one-way options available.
One-way daytime privacy is created by adding a reflective window film to your glass. Also known as window tinting, The mirrored effect will appear on the side of the film that is subjected to the higher level of light, which during daylight hours will be the exterior facing side. The mirrored window film has a reflective appearance and so will prevent passers-by from seeing through the glass, instead, presenting them with a view of their own reflection. Those inside the property will still be afforded a view to the outside, while excellent natural levels of light will be allowed to pass through the glass; an application of one-way privacy window film will not make your property unnecessarily dark.
Frostbrite frosted window film is the perfect chief for achieving effective two-way privacy. Once applied to glass this frosted film will give the appearance of acid etched glass or sandblasted frosted glass/glazing, blocking the view from both sides of the glass while also giving the glass a contemporary and attractive new look. Frostbrite has been specially developed to be long lasting and durable, including being resistant to water and moisture, making it the perfect solution for use in bathrooms or on shower screens.
This privacy window covering also provides the opportunity to add an extra decorative element to your glass, with cut and white printed patterns available. The full range of decorative window film options are available to view online, with each individual order cut to size, providing you with a bespoke, custom created, modern alternative to net curtains and blinds.
Coloured window films
The Window Film Company offers a range of coloured window films, perfect for adding an extra element of interest and style to glass. Our rainbow film is available is a range of different colours and is designed to change the colour of your glazing without blocking the light or the view. Choose from a single colour, or mix and match to create a stunning stained glass window effect.
While our rainbow film could be described as a stain glass film, our solid coloured vinyls will change the colour of your glass while also blocking the view and natural light. Please note that our range of coloured vinyls are not suitable for use on every type of glass, so for advice on which coloured film would work best for your glazing, please do get in touch with a member of our team by calling 01494 794477 or email info@windowfilm.co.uk.
Using window film for heat reduction
Excess heat can be a serious issue both at home and in the workplace, with heat passing through untreated windows and steadily raising the internal temperature until it reaches unpleasant and uncomfortable levels. An application of specialist solar control window film from The Window Film Company will help tackle this issue.
It works by reflecting away a percentage of the sun's solar energy before it can enter your property and add to the steadily increasing temperature. The film is more effective than traditional methods such as curtains or blinds, both of which are set back from the glass, simply serving to trap the heat once it has passed through the glass.
Solar control window film has been developed to allow excellent levels of light transmission, preventing excess heat but letting natural light pass through to ensure a bright and airy internal environment alongside an enjoyable and moderate temperature.
Glare protection and fade reduction window films
An application of window film will also deliver added benefits. Glare can be a year-round issue, with sunlight passing through glass and making it difficult to comfortably focus on screens or reading. Window film will block out the harshest of the light, with the most effective films reducing glare by up to 78%.
Fading can go undetected until it is too late, with sunlight, heat and UV rays combining to cause damage to flooring, furnishing and other belongings. The biggest contributing factor to fading is UV light, and window film from The Window Film Company will block up to 99% of these rays, helping to slow down the fading process.
Safety and security window coverings
Safety window films work by holding glass together in the frame in the event of breakage. This stops broken shards from falling in on themselves, preventing them from causing damage or injury. The film, which is clear in appearance, will also help create a protective barrier for glass at home or in the office.
Safety and security are serious issues, with a range of options available. To help decide on the best course of action for your specific situation, we recommend taking the time to speak to one of our experts. You can do so by calling 01494 794477 or emailing info@windowfilm.co.uk.
How do I apply window film and stick on coverings?
Comprehensive fitting instructions are supplied with each order of window film from The Window Film Company, to help make it an easy to apply process for you, along with a free plastic application squeegee to help you with the fitting. You can also see step by step video instructions at the bottom of each product page – we urge you to take the time to view this short but informative video before attempting your install, it will provide you with a clear and easy to follow guide.
The first part of the fitting process is to thoroughly clean your window. The cleaner the glass the easier and more successful the fitting will be, so do take the time to make sure all dirt and imperfections are removed from the glass before installation. Next, create a soapy water solution by adding a few drops of washing up liquid to a plant spray bottle full of water. Spray this solution all over the window, then remove the backing sheet from the window film and do the same to the exposed surface of the film. Then take the film to the window and allow it to flow into place. Use the application squeegee to push the moisture from underneath the film and out under the edge of the panel. Use a dry, clean cloth to wipe away the excess water.
If you'd prefer not to tackle the fitting yourself, The Window Film Company offer a nationwide installation service, with teams of fully qualified and hugely experienced fitters on hand to undertake the process for you.
For further information about any of the films supplied or installed by The Window Film Company, quotes, samples or if you have queries about the installation process, please call a member of the team on 01494 794477 or email info@windowfilm.co.uk.