Maps on Wallpaper and Window Film
Bespoke Printed Maps for Window Film and Wallpaper

Maps remain one of the most visually impressive and appealing pieces of design, and The Window Film Company is now able to print custom designed maps for both supply and installation.
Using images supplied from the Ordnance Survey, The Window Film Company are able to print maps in perfect detail at any size, onto a range of materials suitable for application to windows, walls and glass partitions. Once installed the maps can be used to provide information and directions or can take the form of an impressive decorative feature.
The maps are fully customisable, you choose exactly how much or how little details is to be included and at what size. The Window Film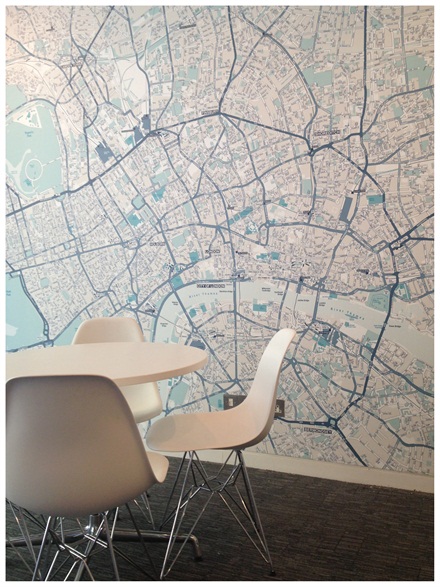 Company can also customise the colours featured on the map, allowing you to create a fully bespoke design.
Using state of the art print facilities, the maps are printed in absolutely flawless quality no matter the size. The maps can be printed onto a range of our materials, including frosted films, vinyls and digital wallpaper. Each film provides a different finish and performance, ensuring an elegant impressive solution for every situation.
Each map will be carefully scaled to fit the exact sizes you supply, and a proof will be supplied of each design before printing. As well as supply, The Window Film Company offers a full installation service, with teams of qualified and experienced fitters operating throughout England.
Maps are available in a range of styles – aerial images, historical maps, site plans and traditional road maps, and can be used as a unique, informative and eye catching way to brighten up walls, windows and other surfaces.
For further details on this and the other printed products The Window Film Company supply and install, please contact us on
01494 794477