Blackout window film for gym fit out in Bedfordshire
The Window Film Company has applied high quality black vinyl film to 100 large roof panels to help with the light management element of a large premises repurposing project.
As part of the repurposing of a large carpet warehouse in Bedfordshire into a state-of-the-art gym facility, the Window Film Company was engaged to provide a solution that would stop light streaming through the roof, which featured over 100 large vision panels.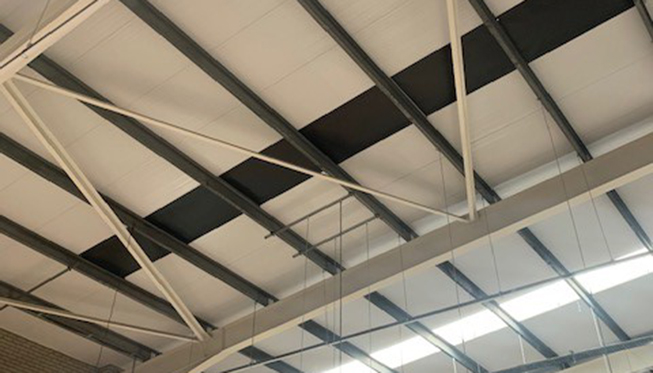 Requirement
With the premises set to be a large gym, the interior environment was a key consideration, with the light levels a hugely important factor. As it stood, the large number of vision panels set into the structures ceiling meant that natural light flooded the property, passing through the roof completely unchecked. In turn, this made it very difficult to manage the light levels – an issue that needed addressing as part of the facility's transformation.
Solution
With over 150 roof panels situated in the ceiling, it was agreed that blocking 100 of them would result in manageable light levels. A solution was therefore required that would provide comprehensive light blockage once installed. The Window Film Company sourced and suggested a specialist black vinyl, one with an extensive lifespan and an increased colour density to deliver maximum light blockage.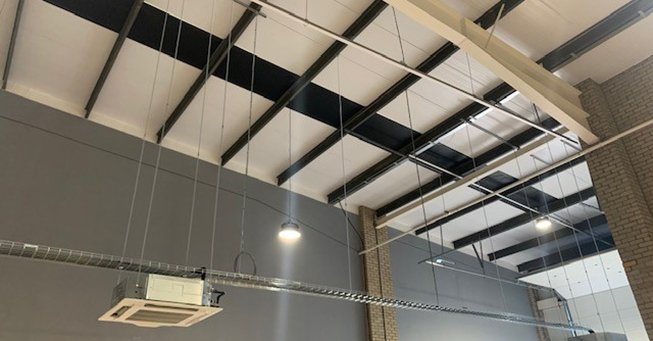 The lifespan of the film was an important consideration, as the height of the roof meant there were significant logistical challenges for the installation, challenges that would be harder to overcome once the refurbishment was complete and the premises were full of equipment. The final, and by no means the least important consideration was the aesthetic appearance, with the matt black finish providing the ceiling area with a sleek and stylish look.
Installation
The height of the ceiling meant that powered access equipment was required for the installation, with this and all other logistical challenges dealt with by The Window Film Company's dedicated operations team. The team was able to liaise directly with the client, agreeing on the most suitable date for installation, with timings reliant on what other trades were on site at what time.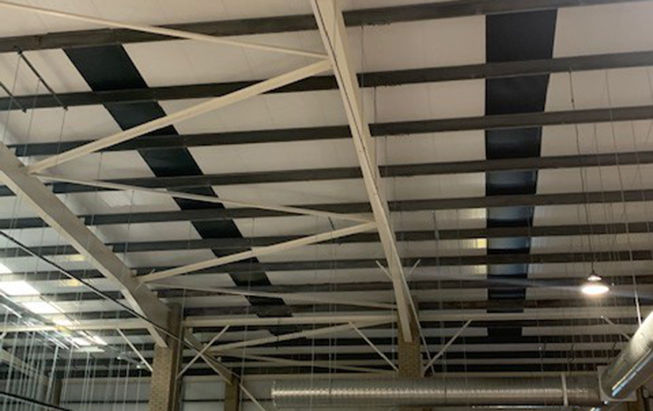 The fitting was undertaken by a team of The Window Film Company's fully trained and vastly experienced installation teams, with each panel carefully cut and trimmed to deliver a perfect finish.
The black vinyl was applied to a total of 100 panels, covering an area of 150 square metres.
Once installed, the result was an immediately more manageable level of natural light, meaning the internal lighting environment could be easily controlled. The appearance of the film gave the ceiling an improved appearance, with the black finish serving to provide a sleek and stylish look; vital for what will be a state-of-the-art, modern facility.
Summary
Light blocking solution required.
High performance black vinyl with increased colour density used.
Applied to 100 panels, across a total of 150 square metres.
Project managed and installed by The Window Film Company.