Stained Glass Window Effect with Printed Graphics
Window film printed graphics to give a Church window a stained glass look.
A stunning print and installation project featuring bespoke printed graphics, delivering a bright and vibrant stained-glass effect for a Surrey based church.
The Project Brief
The church, situated in Guildford, boasted a bank of six large windows, each over 2 metres in height. The glazing delivered excellent levels of natural light, but with no view of note, it was agreed that the windows would be best used as a display. It was decided that a traditional stained-glass style display would be appropriate, providing an appearance befitting of the church setting, while also maintaining the excellent natural light levels.
The Project Solution
It was agreed that the artwork should be a unique design, so the church commissioned Martin Cottam; a talented artist with experience in the creation stained-glass effects, to produce a bespoke set of full colour drawings.
With the creation of graphics taken care of, The Window Film Company were responsible for getting the designs off the page and onto 10 square metres of glass. To ensure both a vivid reproduction of the colourful design and good light transmission, it was decided that printing onto optically clear window film would be the most effective option.
Optically clear film provides the perfect surface on which to print, allowing for the recreation of graphics with pinpoint accuracy. The Window Film Company's dedicated print and graphics team decided that a double strike print method would be sensible, a technique that involves printing the imagery twice to deliver a bold, vibrant and colourful finish.
The film was printed in-house using state of the art wide-format UV print technology, before being installed by a team of The Window Film Company's fully qualified and vastly experienced fitting teams.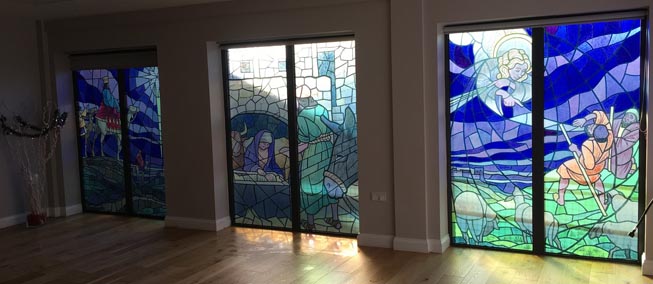 The Project Result
The eye-catching graphics were installed to the six panes, immediately delivering a stunning display that totally transformed the look, feel and ambience of the room. It was transformed into a welcoming and inspiring space, with light flooding through the newly adorned windows, projecting subtle colour into the room while gently illuminating the bespoke graphics.
Stained Glass Window Film Installation Key Points
Requirement for a bright vibrant display
Solution must allow for high levels of natural light transmission
Bespoke artwork created specifically for the project
Print and install of stained-glass effect graphics onto 6 large panes (10 square metres)
Graphics printed using wide format UV printer
Double-strike print method for added vibrancy