ON GLASS MANIFESTATION FOR ONLINE GIANT
Oct 22 2012

As with most things in life, there are rules and regulations surrounding glazing in public places. Among the legislation that must be adhered to is the requirement of making glass of a certain size apparent, making it clearly visible in order to avoid accidents. This is usually achieved by applying manifestation to the glass.

Manifestation can take many forms, and in this case, it was decided to feature a number of branded phrases and images cut out of Frostbrite frosted film.

Frostbrite gives glass a classic sandblasted, acid etched appearance, perfect for providing privacy in a contemporary, stylish way. It is also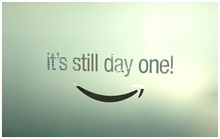 one of the most popular films when fulfilling manifestation requirements, largely due to its versatile nature. As in this example, the film can be computer cut to feature bespoke graphics or designs, and can easily be cut to whatever shape or size is required. Our Frostbrite frosted film can also be printed on in full colour and is long lasting and durable.

For this job, our client was able to supply the graphics and images, which were in turn computer cut in house, to ensure a perfect reproduction. The film was then fitted by one of our teams of expert installers across several floors of Amazon's London offices. As part of the installation on each floor, The Window Film Company also fitted a panel of writeable whiteboard vinyl – a fantastic product that once applied, has the same properties of a classic whiteboard, meaning it can be written on with dry markers and wiped clean.

The Window Film Company are able to advise about all relevant legislation surrounding glazing, as well as the products we provide to help you meet all legal requirements. We have fully trained staff on hand to take your call, so please get in touch on 01494 794477 for more information.