SERVICING SERVICES
Sep 28 2012

You're probably more used to seeing window film products than you imagine. The nature of our products mean they can be put to increasing number of uses in a wide range of situations and environments, and we're finding ourselves carrying out installations in more and more public spaces. That was the case recently as we fitted a set of bespoke designs to a balustrade at Cobham services – just off Junction 10 of the M25.
Our client provided the image, which we then printed onto our Frostbrite Frosted film using our UV printer. The combination of a high quality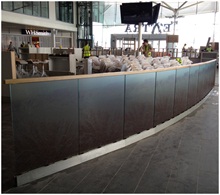 image, our high grade film and state of the art printer, ensures that the finished product is a truly eye-catching addition to the glass installation.
Frostbrite frosted film is a very popular product, largely due to its versatility. In its standard form, it will give glass a classic acid etched, sand blasted effect and can be used to achieve privacy, as glass manifestation or for decorative purposes. The film can also be printed onto in full colour, providing the option of combining functionality with decoration and design.
Whatever your requirement, we have the expertise, experience and equipment to deliver. Each of our clients has a dedicated account manager, who will discuss your requirements and advise as to the best product for your situation. Our in house graphics and print team are available to help with artwork and design issues whilst our fully trained and qualified teams of installers are on hand to ensure the application is perfect.
So, if you are travelling down the M25 and thinking of stopping off, why not pay a visit to Cobham services and see if you can spot our installation. If you are closer to home, why not head to www.windowfilm.co.uk or call 01494 794477 to learn more about what we can do for you.