FOCUSING ON HEAT REDUCTION
Dec 09 2016
Many modern retail stores feature large glass panels as part of their construction. The benefits to this style are numerous; it allows for a clear line of sight into the store whilst also looking modern and contemporary. It also has drawbacks, one of which is the potential for excess heat build-up. This was the case at a branch of Vision Express and The Window Film Company was brought in to help.
The issue was caused by sunlight streaming in unchecked through the large glass panels, with the glazing at first floor level identified as being the primary source. This steady stream of sunlight was causing the reception area to get steadily hotter during the day, creating an uncomfortable environment for both customers and employees.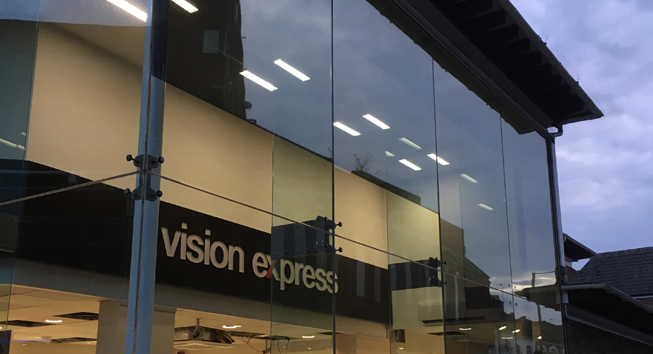 The decision was taken to tackle the issue during the cooler winter months to ensure that as soon as the weather turns warmer, the premises were ready and protected.
After discussing the options with a member of The Window Film Company team, it was agreed that "Cool Steel" solar control film was the appropriate choice. This product was chosen as it delivers excellent levels of heat reduction, whilst also allowing for vision into and out of the store – a key consideration.
Cool Steel is available in a number of different grades, including a product suitable for external application. For this project, Cool Steel 20 was the film chosen as it has the highest heat reduction rate of the range, delivering a reduction in excess heat of up to 69%. In addition the film will help to slow down the fading process by blocking harmful UV rays and will also reduce glare – a potential issue all year round.
A five metre scaffold tower was required to install the film due to the height of the glazing, with this and all other logistical issues handled by the dedicated operations team. The film was applied to the inside of the glass by one of The Window Film Company's experienced and fully qualified installation teams, with the work taking place early in the day to prevent disruption to the busy store.
Once complete the film was effective immediately, with heat reduction, glare protection and fade mitigation all delivered by the installation with the view into and out of the store maintained.
For more information about the full range of solar control films supplied and installed by The Window Film Company, please contact a member of the team on 01494 794477 or email info@windowfilm.co.uk.