BESPOKE BATHROOM BEAUTY
Jun 30 2017
By using high quality materials and state of the art print technology, The Window Film Company is able to create eye-catching designs for use in a range of different situations and locations. This includes the creation of bespoke solutions, with a recent example involving the print and installation of a custom created film in a clients' bathroom.
The Window Film Company was approached by a customer who was undertaking an extensive home refurbishment project and required a bespoke window film solution for the bathroom. The newly decorated room featured stylish tiles on each of the walls, and the aim was to recreate the appearance of the tiles on window film which could then be applied to the bathrooms glass partitions and shower screen.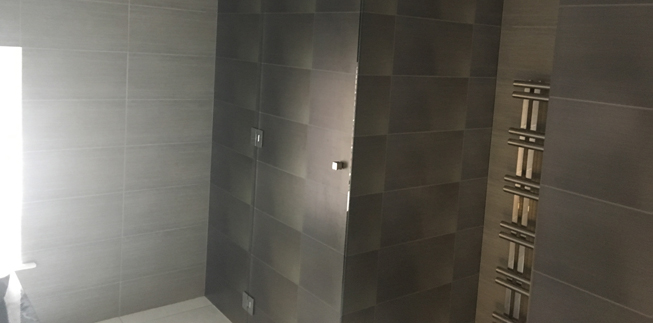 The client was able to supply a sample of the tiles used, allowing The Window Film Company's in-house graphics team to begin work on recreating the appearance on window film. Numerous tests were conducted, experimenting with different ink levels and opacity until a match was created. Samples were sent to the client, allowing the film to be assessed in situ.
With the design approved by the customer, the film was printed before being cut and finished by hand, creating five panels at the exact size required. The film used was Frostbrite frosted film, a long lasting and durable product, with its hard wearing nature making it ideal for use in demanding locations such as shower screens and wet rooms. The film provides an excellent privacy solution, the frosted nature of the film delivering the appearance of acid etched or sandblasted glass once applied. It also provides an excellent surface on which to print, allowing for the creation of beautiful and entirely bespoke privacy solutions.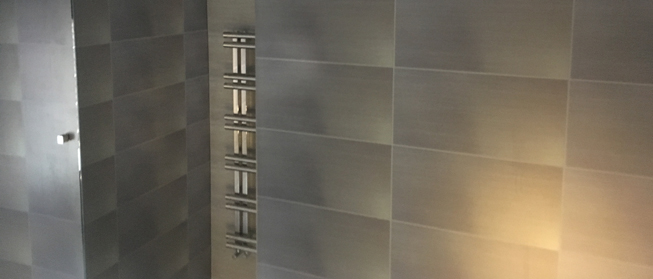 The film was fitted by one of The Window Film Company's experienced installation teams, with the final result being privacy for the shower and lavatory areas while maintaining a stylish, impressive and consistent appearance.
For more details of how The Window Film Company can help provide bespoke printed solutions for your project, contact a member of the team on 01494 794477 or email info@windowfilm.co.uk.