PRINT AND PRIVACY FOR LUXURY DEVELOPMENT
Nov 24 2017
The Window Film Company has completed the installation of a stylish, fully branded privacy solution at a luxury residential development in Colchester.
The developers of the apartments contacted The Window Film Company for a privacy solution, required for a number of windows on the ground floor of the Essex property. The exclusive nature of the development meant that the finish required an extra flourish, with the property name and branding incorporated on any solution.
Frostbrite frosted window film is a long lasting and durable privacy solution that prevents vision from both sides of the glass without sacrificing natural light. Once applied it gives glazing the appearance of acid-etched or sandblasted glass, a contemporary finish in perfect keeping with the style of the apartments. The tough wearing nature of the film made it perfect for the high traffic areas on the ground floor, while it also provides the ideal surface for printing onto, allowing for the creation of a bespoke solution.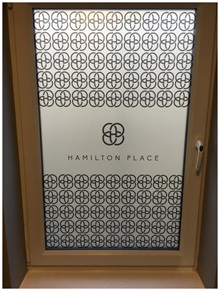 Samples were supplied to the client, who were able to apply small sections of film to the glass to test its suitability and observe it at different times of day to gauge the visual impact. It was agreed that Frostbrite was the appropriate product, and artwork was sent to The Window Film Company's in house print team for setting up.
Proofs were provided for each of the panels, with each featuring a unique and stylish design. With proofs signed off, a date was agreed for the installation, ahead of the film being printed, finished and checked by the print team.
The film was installed by a team of The Window Film Company's vastly experienced fitting teams, with the finished job resulting in immediate privacy and a stylish, contemporary and welcoming ambience, in keeping with the luxurious nature of the development.
For more details on the privacy solutions supplied by The Window Film Company, as well as information as to what can be achieved with printed graphics, please contact a member of the team on 01494 794477 or email info@windowfilm.co.uk.