NEW FILM AT ANCIENT SITE
Apr 06 2018
The Window Film Company has installed window film and printed graphics at some of the most interesting, varied and well known locations in the country.
Our installers have completed projects at sporting arenas, famous landmarks and iconic buildings the length and breadth of the country, but despite this vast experience, it was difficult not to be exhilarated when we were engaged to carry out a project at one of the most recognisable places on the planet; Stonehenge.

Regarded as one of the most famous ancient monuments in the world, the site also houses an impressive visitor centre, constructed at a cost of £27million to provide the millions of yearly visitors with an unforgettable, informative and enjoyable visit. The contemporary design of the centre features two-storey glass walls on all four sides, and it was this glazing that required attention in the form of new manifestation markings.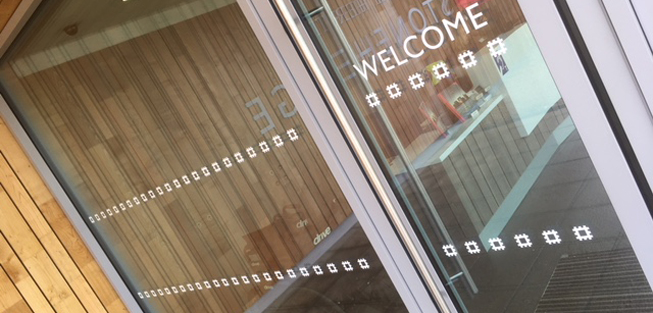 Manifestation is required under building regulations to ensure that glass of a certain size is clearly visible. Markings are required at two distinct heights (between 850mm and 1000mm, and between 1400mm and 1600mm above the floor), to make the glazing easily recognisable and to prevent accidents. While manifestation is a legislative requirement, as long as the minimum standards of size and positioning are met, there are no restrictive rules on how the manifestation should look, providing the opportunity to incorporate a bespoke and unique design onto glazing.
The Stonehenge site is run by English Heritage, a charitable organisation that looks after over 400 historic sites in England. It was decided that the manifestation markings would take the form of the famous English Heritage logo, repeated equally over two rows across over 100 linear metres of glass. It was agreed that the logo would be recreated using white vinyl, providing the contrast necessary while also fitting in with the sleek and stylish design of the centre.

A total of 2,664 individual logos were required and each was computer cut at The Window Film Company's Buckinghamshire HQ, before being checked by hand and prepared for installation. The work took place over a two day period at a date agreed after conversations between English heritage and The Window Film Company's dedicated operations team. The manifestation was installed by a two man team, whose experience and skill enabled them to fit the graphics to the external face of the glass in two perfectly uniform rows. The entire project was completed with no impact on the centre, which was able to operate as normal throughout, welcoming a steady stream of visitors from across the globe.
For more information on manifestation legislation and how The Window Film Company can help you meet your obligations in a stylish and cost effective fashion, call a member of the team on 01494 794477 or email info@windowfilm.co.uk.
Window Film Ranges