KEEPING CONSERVATORIES COOL
Aug 24 2018
Enjoy the sumer, don't endure it...
Conservatories, summer houses and orangeries should come into their own during warmer weather, however all too often they become too hot to enjoy. The problem is caused primarily by the roof, with untreated glass or polycarbonate panels allowing solar energy to flood the room, steadily raising the temperature until ultimately, it's too hot to enjoy. Well, The Window Film Company can help.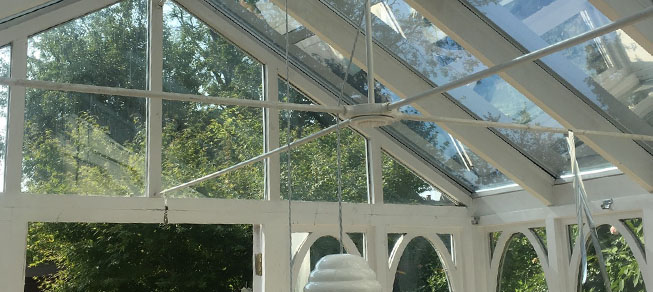 Offering solutions for both glass and polycarbonate roofs, the Window Film Company have been installing solar control films to conservatories since being found in 1998. The premise is a simple yet highly effective one. A specially developed film (there are different products for glass and polycarbonate) is installed to the internal side of the roof (external grades are available should fitting to the inside not be possible) where it will serve to reflect away or filter the sun's energy before it can enter the room and contribute to the rising temperature.
Our solution for glass roofs is a reflective film that works by bouncing away a percentage of the sun's energy. This means that a proportion of heat is unable to permeate the glass and add to the internal temperature. The film works without sacrificing natural light and also maintains your view to the exterior. Think of it as putting a light pair of sunglasses on your conservatory roof!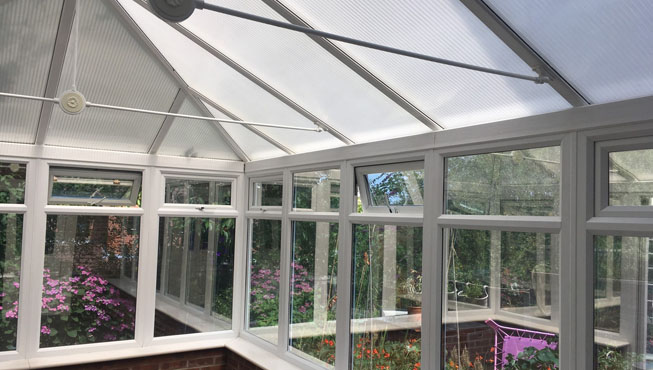 If your roof is polycarbonate, you'll be utilising our supertint poly window film. Developed specifically for use on polycarbonate panels, this high performance film has a sheen that will reflect away a percentage of the solar energy, while also safely absorbing a further amount. Once installed supertint poly will reject up to 76% of solar energy, while also reducing glare by the same amount.
This summer has been as busy as ever, with The Window Film Company's teams of fully qualified and hugely experienced installers completing conservatory and summer house projects throughout the country. If you've experienced an uncomfortable summer in your conservatory, then now is the time to get in touch. Warmer weather should be enjoyed, not endured so to make sure you can make the most of the good weather, get in touch with The Window Film Company for a quote. For a quote all you need to do is provide our friendly team with the size of your roof and the panel type; we'll do the rest!

To take the first step in ensuring an enjoyable temperature in your conservatory, orangery or summer house, call a member of the team on 01494 794477 or email info@windowfilm.co.uk.
Window Film Ranges