MOTORING MANIFESTATION
Aug 03 2018
If you have large panes of glass in your office, factory shop or workplace, the chances are that manifestation markings are required. Designed to stop accidents by ensuring glass is easily visible, The Window Film Company are experts in the supply and installation of manifestation, with a recent project completed for Jaguar Land Rover in Wolverhampton.
Building regulations stipulate that full length (floor to ceiling) glass must feature manifestation markings at two locations; between 850mm and 1000mm and between 1400mm and 1600mm above the floor. The markings must contrast with the background as viewed through the glass and should take the form of a logo or image at least 150mm high or a decorative feature such as solid bands or broken lines at least 50mm high.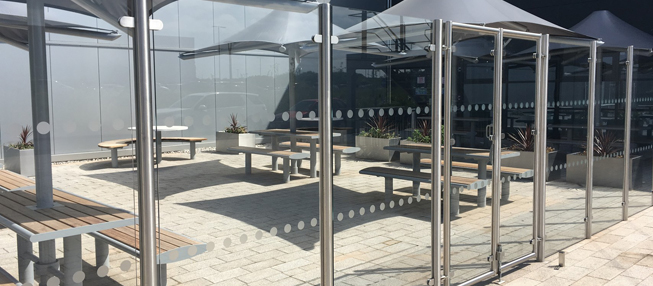 In this instance, the manifestation was required for external glazing that surrounded a courtyard, used by staff during breaks, with the full length glazing providing a stylish and modern looking perimeter.
On this occasion it was agreed that the manifestation would take the form of frosted dots, created from The Window Film Company's high quality Frostbrite frosted film. Once applied the film gives glass the appearance of acid etched or sandblasted glass, delivering the necessary contrast between the glass and the background, while also providing a stylish and contemporary appearance and finish.
Over 50 linear metres of dots were required and these were computer cut for a precision finish at The Window Film Company's facility in Buckinghamshire. The film was finished and checked by hand to ensure each dot was perfect, before being passed on to the fitting team for installation.

The work was undertaken by a team of The Window Film Company's fully qualified and vastly experienced installers, carrying out the install at a time and date agreed in advance by the client and the Operations Team at The Window Film Company.
For more information about manifestation requirements, legislation and how The Window Film Company can create and install the exact manifestation markings that suit your situation, please contact a member of the team by emailing info@windowfilm.co.uk or telephone 01494 794477.
Window Film Ranges