GETTING THE BANDS BACK TOGETHER
Aug 09 2018
The Window Film Company was recently engaged to create, supply and install of manifestation at a Hertfordshire office.
Manifestation is required on glass of a certain size, to ensure it is easily visible to the naked eye and thus preventing accidents. Such markings are primarily required on full length (floor to ceiling) glazing, with the specific requirements set out in Building Regulations.

The regulations stipulate that markings must be of a minimum size and must be present at two specific heights on the glass. As the purpose of the markings is to make the glass easily visible, the manifestation needs to provide a clear contrast between the glazing and the background, an effect delivered perfectly by The Window Film Company's Frostbrite frosted film.
Once applied, Frostbrite gives glazing the appearance of acid etched or sandblasted glass making it the ideal material for manifestation. For this project, the client, who was undertaking an office fit out, decided that the necessary manifestation should take the form of five equally sized and spaced frosted bands.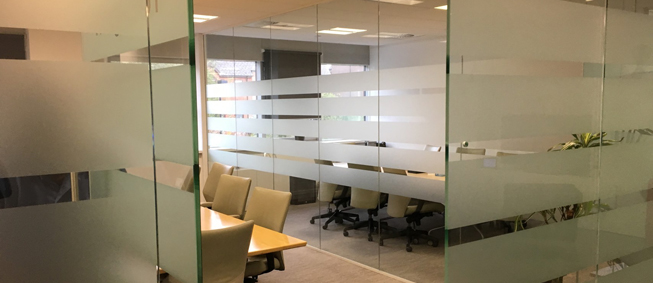 This choice was made as it met the manifestation requirements dictated by law, while also delivering a stylish and professional look, while also providing an unobtrusive extra element of privacy.

The film was cut to the size specifications supplied by the client, the initial work taking place in The Window Film Company's dedicated print and graphics department, before being installed by a team of The Window Film Company's fully trained and hugely experienced fitters.
For details on how The Window Film Company can help create custom manifestation for your premises, please call a member of the team on 01494 794477 or email info@windowfilm.co.uk.
Window Film Ranges