PICTURE PURRFECT
Feb 09 2018
One of the most important features of a hotel is the interior décor. A stylish and welcoming appearance is a vital component in ensuring a comfortable and enjoyable stay regardless of the visitor…
Lily's Retreat is a "Five Star Hotel for Cats" based in Buckinghamshire, offering quality accommodation for pets while their owners take a holiday of their own. The Window Film Company was approached to deliver a long lasting and durable decorative solution for each of the hotel "suites".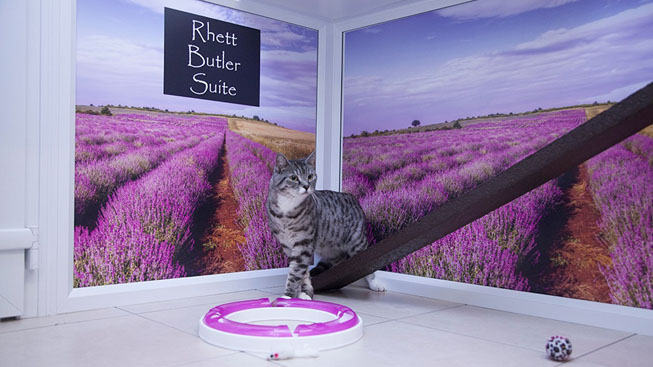 Each suite was to be decorated with a tranquil, scenic image, along with text detailing the name of the room. The graphics were run across the bottom of each spacious pen, providing a stylish appearance and a calming environment. It was agreed that the graphics would be printed onto white vinyl, a tough and long lasting product that will stand up to the demands of the location.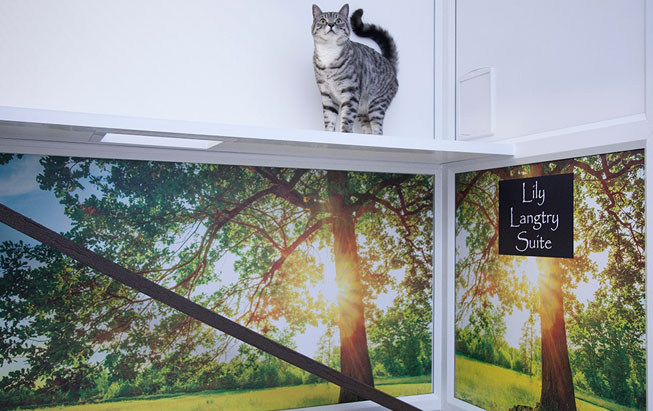 The artwork was provided by the hotel owners, and the graphics prepared by The Window Film Company's in house print and graphics team. Each suite required six individual printed panels, with exact measurements and allowance for each frame ensuring that the pattern flowed perfectly from each pane to the next. Each graphic was printed on one of The Window Film Company's state of the art printers, before being computer cut for pinpoint accuracy and a final check by hand.
The graphics were installed by one of The Window Film Company's experienced and fully qualified fitting teams, at a time and date agreed to ensure the minimum of disruption at the premises.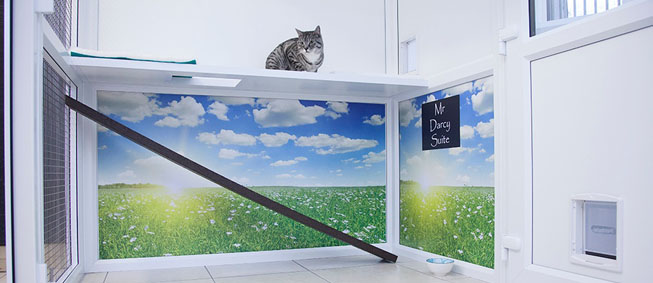 The finished project saw each suite transformed into a tranquil haven for feline visitors, with the hotel owners able to relax, safe in the knowledge that the graphics would maintain their impressive look for years to come.
For more information on the range of decorative products and your options when it comes to printed graphics, please contact a member of the team by calling 01494 794477 or email info@windowfilm.co.uk.