KEEPING COOL AT SCHOOL
Jan 26 2018
For every premises, the internal environment is vitally important. Whether it be the aesthetic appearance, the configuration of furniture or the light levels, ensuring comfort for those inside is a primary concern.
This is particularly important in schools. Staff and students spend many hours a week inside, so maintaining an internal environment conducive to both teaching and learning is a priority. The Window Film Company was contacted by a Cambridge school, where excess heat was having a negative impact.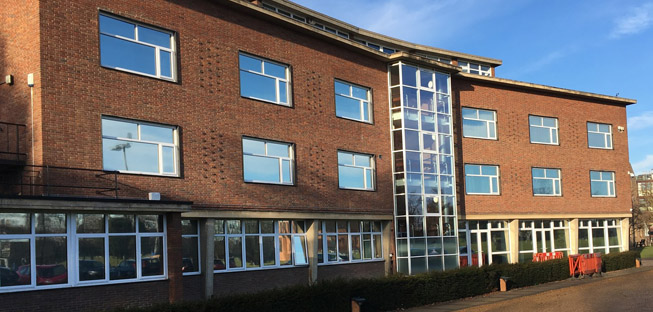 The affected buildings were comprised of three floors and each had a primarily glass frontage. The unchecked sunlight was streaming through the windows, consistently raising the temperature until it became uncomfortable. Depending on the time of day, glare was also proving to be an issue and a solution was sought.
High Reflective Silver is a specialist solar control window film that will reduce heat build-up and reduce glare by up to 81%. The film works by reflecting away solar energy before it enters the premises and filtering out the harshest of the sunlight. Once applied, the film will provide the glass with a stylish mirrored appearance on the exterior face, without sacrificing the view from the inside out.

Samples of the film were provided to representatives of the school, who were able to apply the product in different locations and to observe performance in varying conditions. With the film performing as hoped, the project was signed off and The Window Film Company's operations team began planning the installation.
Due to the nature of the premises, it was important that the work took place at a time that would have the minimum impact on the day to day running of the school. The work took place over a two day period, with film applied to the internal face of 139 panes over three floors.
Once installed, the film was effective immediately and while the installation took place during winter, staff and students could head into their lessons knowing that throughout the year they could be assured of a comfortable and enjoyable environment in which to teach and learn.
For more information on the full range of solar control window films supplied and installed by The Window Film Company, please contact a member of the team on 01494 794477or email info@windowfilm.co.uk.