KEEPING COOL WITH SOLAR CONTROL
Jul 12 2018
The Window Film Company supply and install window films for a range of purposes, with solar control and heat reduction an understandably popular request at the moment. This recent installation provided an immediate improvement in comfort levels at a London office.
Windows play a vital part in the design of a property, delivering a source of natural light as well as providing a view to the exterior. However, left untreated they can result in the internal temperature rising to uncomfortable levels very quickly. Traditional methods of dealing with this problem, such as drawing curtains and blinds, aren't just ineffective (they still allow solar energy to enter the room and increase the temperature) but also negate the positives of windows by blocking light and the view. Solar control window film is different…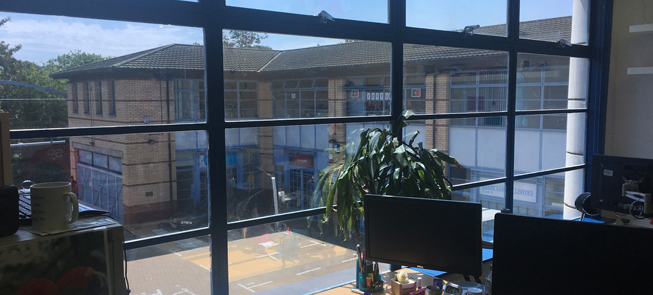 The Window Film Company was able to suggest High Reflective Silver as the most suitable product for the location and samples were sent to the project managers, allowing them to test the film and assess how it looks and performs at different times of day. The film works by reflecting away a percentage of the suns energy (and therefore heat) before it can pass through the glass, without blocking the view or sacrificing natural light, making it the perfect solution for a busy workspace.

The window film was subsequently fitted to 16 large panes by a team of The Window Film Company's fully qualified and vastly experienced installation teams. The film was applied to the internal face of the glass and was effective immediately, helping to ensure a moderate and comfortable working environment.
For more information on the full range of solar control films supplied and fitted by The Window Film Company, please contact a member of the team on 01494 794477 or email info@windowfilm.co.uk.