FULL MARKS FOR THE WINDOW FILM COMPANY
Jul 06 2018
The Window Film Company is proud to have been recognised with an award by the Buckinghamshire College Group.
The employer of the year accolade was awarded to The Window Film Company "for providing outstanding service and opportunity to the students of Buckinghamshire College Group" and comes on the back of a number of initiatives, designed to give local students an understanding of working life.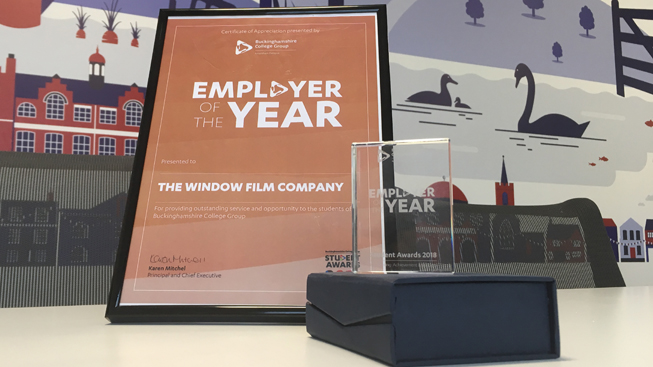 Throughout the year The Window Film Company has welcomed a number of work experience placements, conducted workplace tours of our headquarters in Chesham, Buckinghamshire and organised a number of well received presentations which saw business owners and entrepreneurs from a range of backgrounds and industries talk through their experiences.
Micky Calcott, Managing Director at The Window Film Company explained:
"I feel strongly about doing what whatever I can to help inspire and help the next generation of entrepreneurs, and by offering what I hope are valuable opportunities to students in the local area it feels like we are doing something worthwhile. I've been hugely impressed with the students I've met and it's been a pleasure to talk to them about their hopes and ambitions as well as sharing my experiences."