PUTTING GRAPHICS ON THE MAP
Jun 08 2018
Printed graphics provide the perfect opportunity for giving workspaces a welcoming, professional and aesthetically pleasing look. The Window Film Company offers a range of solutions to deliver this, with digital wallpaper an increasingly popular impactful choice.

Digital wallpaper is a versatile product that can be printed in full colour to feature bespoke graphics, imagery or wording before being applied to almost any flat surface. This means that previously ignored locations such as doors and cupboards can be decorated easily and cost effectively. For this project; part of an office refurbishment in Surrey, digital wallpaper was used to incorporate a large, bespoke, full colour map onto a wall of the office, clearly showing the company's area of operation. As well as serving a functional purpose, the colour and bold nature of the graphics provided an eye-catching and professional looking feature at the heart of the office.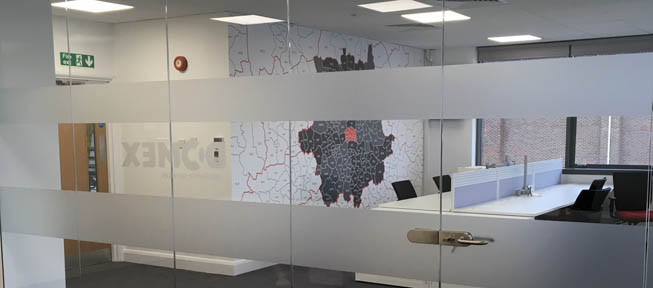 The project also included additional graphics, this time for the glass partitions throughout the building. These graphics were required to meet manifestation regulations, which necessitate the application of markings onto full length glass to ensure it is clearly visible at all times. The legislation dictates a minimum size and the location for these markings, but as long as these stipulations are met, there are no restrictions on how the manifestation markings look, making it an ideal opportunity to add more bespoke or creative elements to glass.

On this occasion it was agreed that the manifestation should take the form of a number of solid bands, also incorporating the company logo. These elements were cut from Frostbrite frosted film by The Window Film Company's in-house graphics and print team, utilising state of the art computer cutting technology to ensure a precision finish for each element.
The digital wallpaper, of which there was a total of 25 square metres was also printed in-house by The Window Film Company, and along with the Frostbrite elements was checked and finished by hand, ensuring the perfect finish before being installed.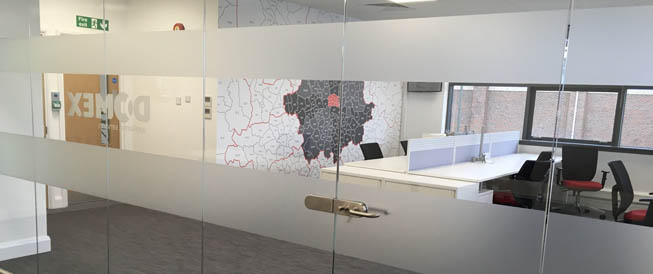 The fitting was undertaken by a team of The Window Film Company's fully trained and vastly experienced installation teams, with the finished project giving the office a smart and stylish look, while also delivering on manifestation requirements.
For more details of how The Window Film Company can help meet manifestation requirements and assist with creating eye-catching displays and decor for your office walls and other surfaces, please contact a member of the team by calling 01494 794477 or email info@windowfilm.co.uk.
Window Film Ranges