WORKING WITH THE NEXT GENERATION
May 11 2018
The Window Film Company was proud to play host to two talented work experience students over the past month, strengthening the existing link between the company and local education providers.
The two students, Harry and Charlie, are currently enrolled in the Peter Jones Academy at Buckinghamshire College and they joined The Window Film Company's marketing team for two weeks each, undertaking a range of challenging and varied tasks. The Peter Jones Academy was founded by Dragons' Den star Peter Jones CBE and is designed to provide a relevant and inspiring educational programme for young entrepreneurs and business people.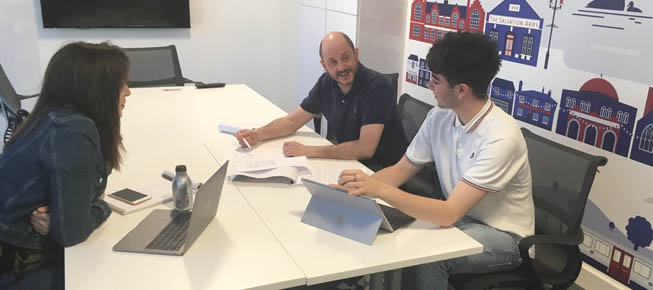 The Window Film Company has played a part in the course before, offering workplace tours, delivering talks and organising speeches and presentations from other business partners and collaborators. Managing Director Micky Calcott explained:
"As a business owner that was educated locally, I'm always looking for ways in which I can help support the next generation of entrepreneurs. By working with the Peter Jones Academy I know we are working with students who are committed to learning all they can about business from people who have been there and done it, so it's a real pleasure to be involved.
In addition, by offering work experience we're able to not just show students what the reality of life in the workplace is like, but to also welcome bright and talented individuals to contribute to our business for a period of time. We take our responsibility seriously and as such try to make placements as close to real world as possible. That means that ahead of any placement, students are expected to take part in an interview; we want the whole experience to be as realistic and challenging as possible.

It was great to meet and have Charlie and Harry on board. Both integrated nicely into the office and carried out some valuable work for us. I've no doubt they both have bright futures."
At the culmination of the course, the students will qualify with a BTEC Level 3 and their tutor Shaun McCarthy commented:
"I cannot think of a more appropriate organisation than Window Film Company for our students to study in. All of the staff, from the very top downwards were enthusiastic and keen to share the very best practice in business skills. The Window Film Company's absolute commitment to delivering outstanding customer service was one of the key messages our learners came back with and I'd like to pass on my thanks to everyone involved in making Harry and Charlie's experience so valuable."
Please click here for more information about the Peter jones Academy at Buckinghamshire College.