FOUR SOLUTIONS - ONE FILM
May 25 2018
Frostbrite frosted window film is as versatile and durable as it is stylish. A single application can deliver a number of solutions, as evidenced by this installation, which met four separate requirements.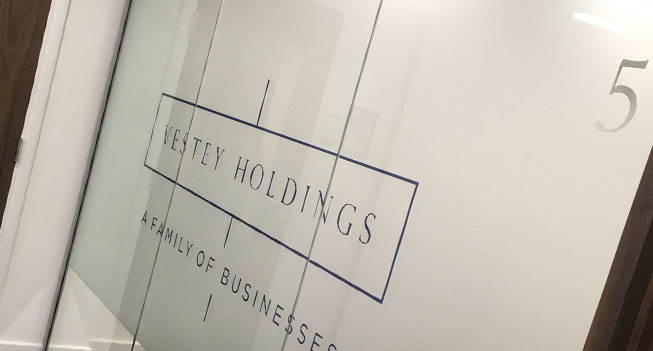 The project took place at a South London office that featured a number of glass partitions throughout. A solution was required that would:
1) Meet manifestation requirements
2) An element of privacy
3) Incorporate company branding
4) Provide individual signage for each room.
Manifestation is a requirement under building regulations and is designed to make glass of a certain size easily visible. Markings are required on glass at specific points to ensure that the glazing is easily detectable and as long as the markings provide a clear contrast, they can take any form. On this occasion it was decided that a band of Frostbrite frosted film would be the most appropriate way of meeting this requirement.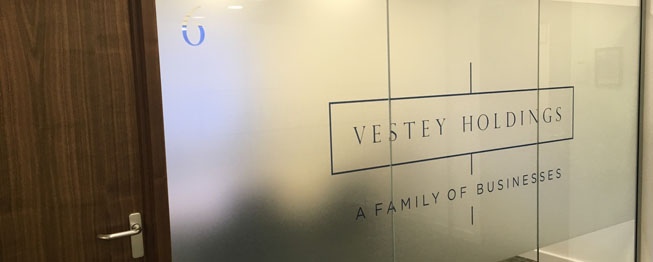 Once applied, Frostbrite window film gives glazing the appearance of acid etched or sandblasted glass, making it a stylish and aesthetically pleasing way of meeting manifestation legislation. The film will also block the view, so the application of this film was also guaranteed to deliver the element of privacy that was required – a partial screening of the glass partitions providing those inside with the confidence that they were working with a degree of privacy.
Frostbrite also provides the ideal surface on which to print, allowing for the creation of a fully bespoke window film. It was agreed that the company branding would be printed directly onto the film, giving the offices an added feeling of professionalism and style.
The final element, a solution for identifying each room, was created by computer cutting the number of each room into the top corner of the panel. This delivered an aesthetically pleasing way of clearly identifying each room, without detracting from any of the other elements of the project.
The film was printed, cut and checked by The Window Film Company's in house print and graphics team, before being installed by a team of fully qualified and experienced fitters.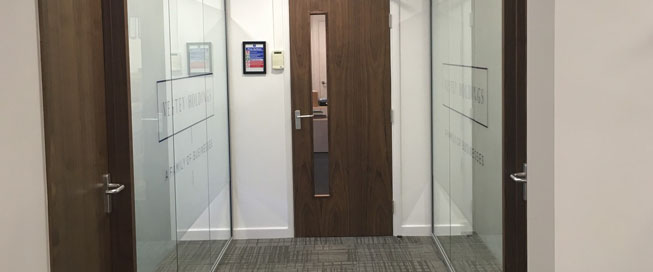 Once installed, the glass partitions took on a professional, fully branded and stylish look while also meeting manifestation requirements, delivering added privacy and being easily identifiable.
Four requirements met with just one film.
For more information on how The Window Film Company can help with your manifestation requirements, branding needs, privacy solutions or signage, please contact a member of the team on 01494 794477 or email info@windowfilm.co.uk
Window Film Ranges