FESTIVE FROST
Nov 30 2018
It's an age old argument that is virtually inescapable at this time of year; when is it acceptable to put up the Christmas decorations?! Well, this recently completed graphics installation seems to suggest that that time is now!
The Window Film Company was contacted by Ashtons, a Hertfordshire based chain of Estate Agents who were keen to give their four offices a seasonal makeover ahead of the holiday period. The brief was simple; to deliver a stylish festive flourish without blocking the view in or out of each office.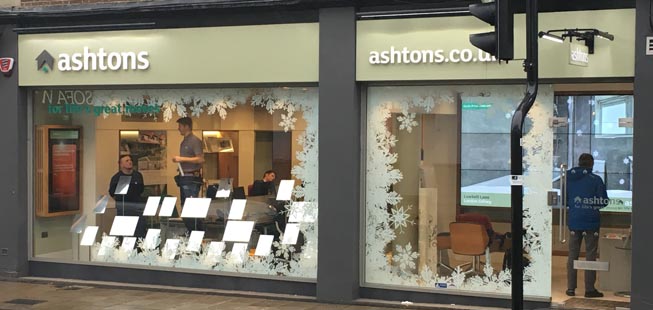 This is a common requirement for those wanting to maximise the use of their glass frontage, particularly among retailers and businesses who are keen to create a display without blocking the view. The solution used in this instance was to print the design supplied by Ashtons onto an optically clear film.
This method allows the reproduction of intricate and detailed designs, giving the appearance of cut graphics, with just the printed area visible when applied. This in turn makes it the perfect solution for showcasing eye-catching graphics or displays, while still allowing for a view in and out of the premises.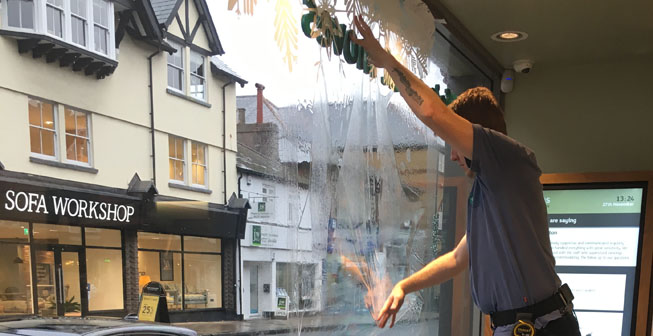 This particular design featured an array of falling snowflakes, printed in brilliant white ink. The print for each store was carried out by The Window Film Company's in-house graphics and print team, using state of the art print technology to deliver a vivid and long lasting print on the highest quality optically clear window film.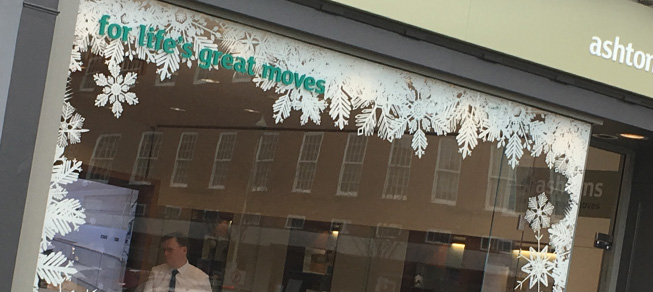 Each panel was then fitted by a team of highly experienced and fully qualified fitters, completing the work with the minimum of fuss and intrusion before leaving each of the branches looking resplendent with their new look!
If you'd like The Window Film Company to help with your window display (Christmas or otherwise!), printed graphics or window film, please contact a member of our friendly team on 01494 794477 or email info@windowfilm.co.uk