BRINGING HISTORY TO LIFE
Oct 12 2018
The Window Film Company has completed an eye-catching and unique graphics installation at the Queen Mary University Of London, bringing to life a fascinating timeline of the illustrious history of Aeronautical Engineering at the facility.
The graphics were required for an internal glass partition, in part to meet manifestation requirements and also to add a meaningful decorative dimension to the area. Manifestation markings are required by Building Regulations to ensure that glazing; typically glass doors and partitions, are clearly visible to the naked eye. These markings are necessary at two points on the glass, but apart from this stipulation, the markings can take on any appearance – in turn making the requirement an opportunity for creativity and a bespoke solution.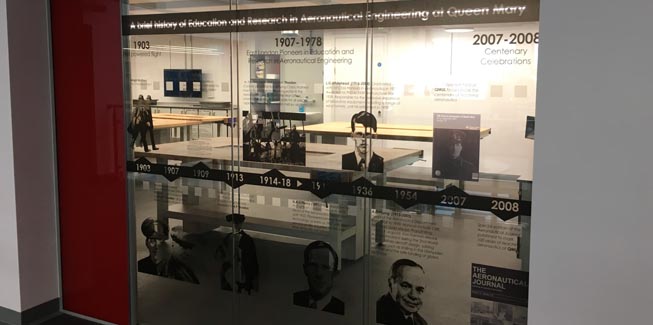 With manifestation required, the University decided to take the chance to create something eye-catching, creating a timeline of key events that had taken place in the department. The graphics were specially designed to include a range of images and text; even containing a reproduction of the minutes taken at the first public lecture in Aeronautics way back in 1909.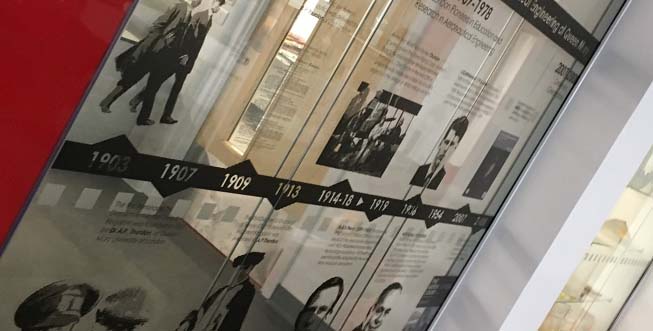 The graphics were printed onto optically clear window film and installed by a team of The Window Film Company's expert fitting teams. By printing onto optically clear film it was possible to give the appearance of cut graphics, while delivering a perfect reproduction of each part of the design.
Once installed the graphics met manifestation requirements while also completely transforming the look of the area with professional looking and relevant graphics.
For more information on how The Window Film Company can give your glazing a new look with printed graphics and window film, contact a member of our friendly team on 01494 794477 or email info@windowfilm.co.uk.