BRILLIANT BRANDING IN BUCKS
Oct 19 2018
Shopfronts and facades provide a superb opportunity to add design or brand elements to premises, creating an eye-catching and memorable display, catching the eye of potential clients, while delivering an aesthetically pleasing appearance for staff and visitors. The Window Film Company created and installed this perfect example at a Buckinghamshire office.
The project brief was to create a bespoke visual display for the front of the premises, encompassing branding, contact details and a large scale reinterpretation of the company logo. There was also a desire to deliver privacy, so the suggested solution would have to provide this element, too.
Frostbrite frosted film is a very popular choice for privacy and branding for a number of reasons. Once applied, the film will give glass the classic appearance of sand blasted or acid-etched glazing; a timeless look that delivers elegant two-way privacy without sacrificing natural light and without the need for expensive replacement glass. Frosted film also provides the ideal opportunity for creating printed, or in this case cut graphics.

It was agreed that for this job, cutting what was an intricate, angular design from the film would deliver the best look and finish. The artwork was provided by the client, allowing The Window Film Company's in house print and design team to prepare the graphics, ensuring that the design flowed perfectly from pane to pane – the film was to cover four panels of differing size.
The film was cut using state of the art compute cutting equipment, ensuring an absolutely perfect finish. The film was checked and finished by hand, checking for any imperfections before being installed.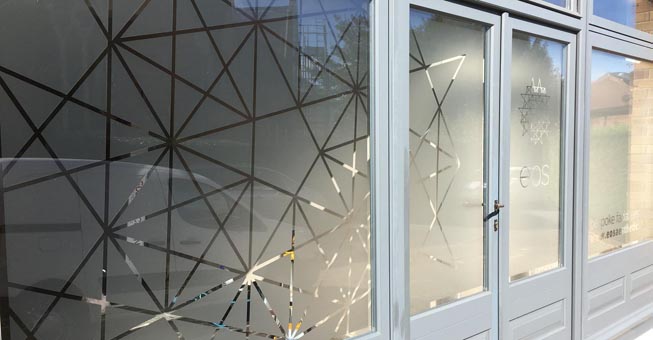 A date for installation was agreed between the client and The Window Film Company's dedicated operations team, before the installation was carried out. The fitting was done by one of The Window Film Company's fully qualified and vastly experienced teams, installing the window film graphics to the internal face of the glass.
Once complete, the appearance of the premises was completely transformed. The desired level of privacy was achieved, while the building took on a fully branded, stylish, eye-catching and welcoming appearance.
For more information about how The Window Film Company can help with printed or cut graphics for your glazing and other surfaces, as well as details on the other window film products available for issues such as solar control, glare and safety, please contact a member of the team on 01494 794477 or email info@windowfilm.co.uk.
Window Film Ranges