LOOKING GOOD WITH GRAPHICS
Oct 26 2018
The Window Film Company is an industry leader in the supply and installation of window film and printed graphics, delivering solutions for a varied range of prestigious clients. Offering a nationwide installation service, the fitting of these bespoke printed graphics took place at the UK premises of a company with a worldwide presence.
The primary requirement was for a bespoke manifestation solution for the offices' large quantity of full-length glazing. Manifestation is required by building regulations to ensure that glass is visible, for the purposes of avoiding accidents. These markings are required at two specific locations on the glass and must provide a clear contrast with the glass and the background.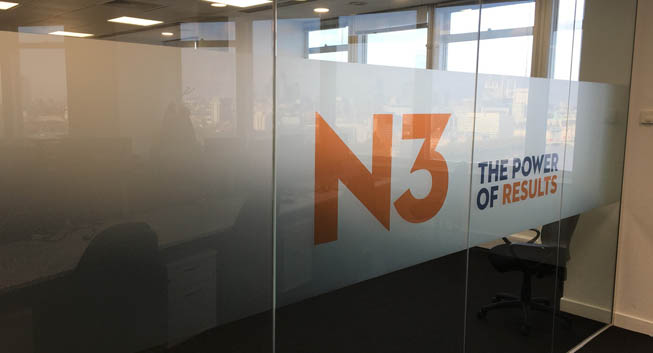 It was agreed that the manifestation should take the form of a frosted band, printed to feature the company's branding. Frostbrite frosted window film was chosen for a number of good reasons. Firstly, it provides the necessary contrast while delivering a stylish and aesthetically pleasing finish. By applying the horizontally across the glass, the film also meets both location requirements, while finally, the film provides a perfect surface on which to print, allowing for the creating of bespoke manifestation.
The artwork featured the full colour company branding and this was created in perfect detail by The Window Film Company's design and print team, who prepared a total of 27 custom made panels ahead of installation.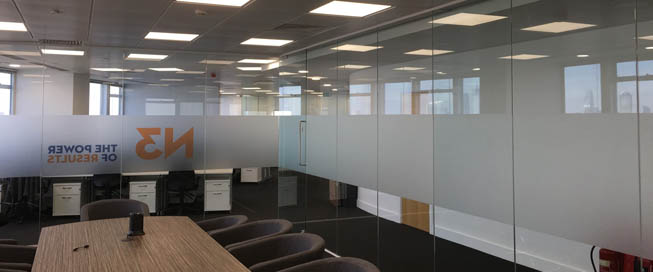 Before the installation could take place, the removal of existing and out-dated manifestation was required, making the fitting a two-stage process. Both the removal and installation of updated graphics were carried out by a team of The Window Film Company's very experienced and fully qualified fitting teams, carrying out both elements of the work with the minimum of disruption and the maximum of care.
The end result was a manifestation solution that didn't just meet legislator requirements, but also provided a stylish and professional new look for the entire office.
If you'd like more information on what your responsibilities are when it comes for manifestation, would like some advice on inspiration when it comes to meeting them, or would just like a chat about how The Window Film Company can help transform your premises with first class printed graphics, then please call a member of our friendly team on 01494 794477 or email info@windowfilm.co.uk.
Window Film Ranges